Young readers who packed the the Central Library March 19, culminating months of reading and quizzing, said the best part of Seattle Public Library's Global Reading Challenge isn't just the competition – it's making new friends.
"It's good to get to know other people," said 11-year-old Saron, a fifth-grader from John Rogers Elementary School. "It's kind of a new adventure."
The Global Reading Challenge challenges teams of fourth- and fifth-graders from 70 Seattle public schools in a competitive quiz tournament after they read 10 books from culturally diverse authors. School librarians say they assign teams deliberately to unite children who might not otherwise socialize with each other.
The citywide finale last month hosted nine teams and filled the Microsoft Auditorium with fans.
The annual program, supported by gifts to The Seattle Public Library Foundation, engaged 4,300 children this year, prompting them to read books that some said they wouldn't have picked up if not for the challenge – but were glad they did so.
"All the books are good," said Evvi, another 11-year-old fifth grader from John Rogers. She and Saron both picked "The War That Saved My Life" by Kimberly Brubaker Bradley as their favorite of the 10 selections.
"It taught me some history and lots of British words," Evvi said. "It was a powerful story and a really fun read."
Parents Candice and Kevin, whose daughter Karissa is a 10-year-old fourth-grader at Cascade Parent Partnership Program, said the program helped their child make friends at her new school and turned her on to reading for pleasure.
"She wants to read more now to prepare for this event," Kevin said. "She's excited about reading. She's doing more on her own."
The culturally diverse book selections help children understand different viewpoints and boosts their empathy for others.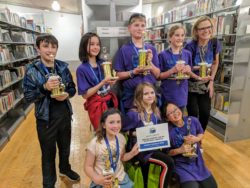 "It really makes them go beyond their comfort zone and they love the books, said Pat Bliquez, school librarian at McDonald International School.
It also helps children for whom English is not their first language and makes them excited to learn, said Nancy Fisher-Allison, librarian at John Rogers.
Kids shared high-fives and pumped each other up throughout the finale, keeping the contest positive and encouraging.
The team from Bryant Elementary School – called "Unusual Students for the Exceptional Librarian" – ultimately took home the trophy, for the second consecutive year. They earned a pizza party with Seattle Public Library's Chief Librarian Marcellus Turner.
But perhaps Fisher-Allison put her finger on the ultimate victory of the Global Reading Challenge: "It lights a fire."