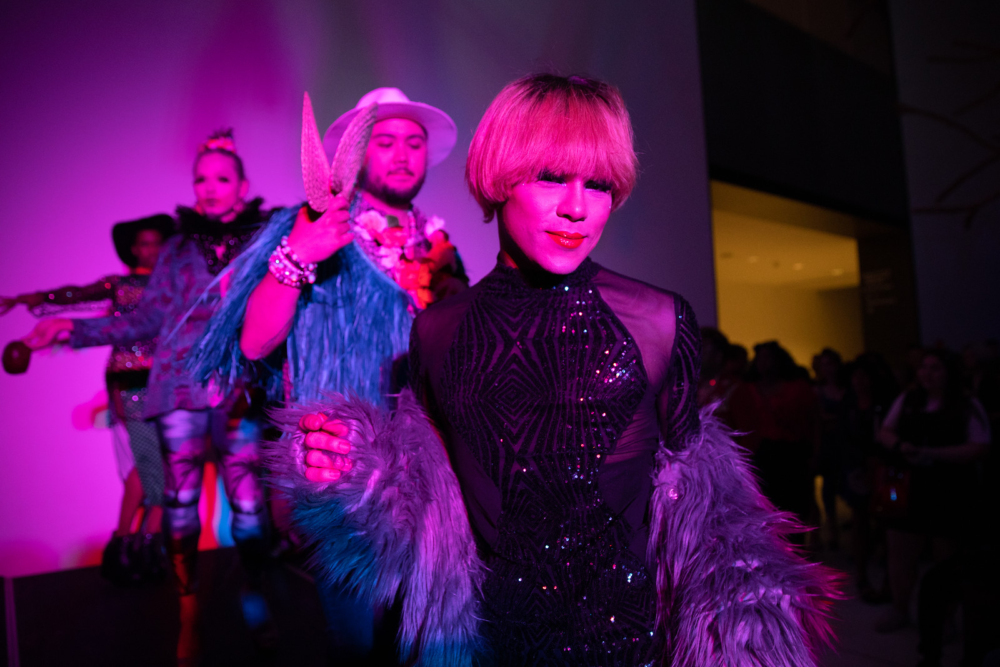 Wella recently moved to Seattle from Kansas to seek a more robust queer community. And she found one earlier this month – thanks in part to the Library.
She says she's still finding her place as a young queer woman in a new city, but after a friend invited her to Legendary Children at Seattle Art Museum, she found the first place that felt like home.
"I'm surrounded by people who are just like me," she said standing next to the Jeffrey Gibson: Like a Hammer Indigenous-inspired art exhibit. "There's a lot of love in this building."
Legendary Children, a free event sponsored by The Seattle Public Library Foundation and SAM, is a sublime celebration of QTBIPOC communities (queer and trans Black, Indigenous, and people of color). Initially inspired by the house and ball culture featured in the 1990 documentary, "Paris is Burning," the event features fashion, catwalks, dancing and thought-provoking performance art – a multifaceted joyful affair punctuated with social justice.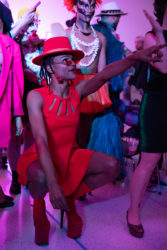 "Legendary Children is the centerpiece of Public Engagement programs on art, social justice, and civics," wrote Davida Ingram, one of the organizers who works for the Library as the public service programs and events manager. "Community is in the driver's seat. Art is at the center. And social justice rings loud and clear. We get to celebrate the brilliant civic leadership of Indigenous, Black and Brown people who are queer and transgender in museums and libraries and that is phenomenal."
Wella's friend, Reilly, said Legendary Children changed her view of the Library – that it's not just a staid warehouse of books.
"This is my first perception of it being this active force in the community," Reilly said.
This year, the event also allowed patrons to check out the last weekend of Jeffrey Gibson's exhibit for free. His mixed media works – including glass beaded works, abstract paintings, and punching bags – explore Indigenous and queer identity and is influenced by popular culture, fashion, and design.
That was meaningful to Wella, who had never been to SAM before. She said that moving to the Pacific Northwest helped her learn more about Indigenous cultures and was glad to see that reinforced at Legendary Children, where hosts acknowledge that Seattle is built on Indigenous land.
Matt Lawrence, a Seattle hairstylist who grew up on the Makah Reservation on the Olympia Peninsula, styled an Indigenous-themed runway show featuring hair pieces made from cedar, representing cleansing and protection. The jewelry, clothing, and makeup were all made by Indigenous creators.
Matt said that Legendary Children not only offers a space for people who have historically faced marginalization to celebrate each other, but brings people to SAM that otherwise might not have access – and likewise exposes culture fostered by queer and trans people of color to SAM and Library patrons that might be new to such events.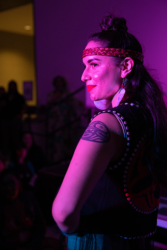 "You're kind of merging these groups and allowing them to enjoy each other's presence and understand each other a little bit better," he says.
Randy Ford, a dancer, choreographer, and actor who's been involved in Legendary Children for four years as a curator and performer, recruited performers.
"It's one of the only free queer-, trans-, nonbinary-, gender non-conforming-, Black-, Indigenous-, POC- inclusive spaces in Seattle," she said.
And next to inclusivity, what's top of mind when she's shaping the lineup of performers: that people have a good time.
"It's really awesome to know that people really did have a good time and felt seen and felt beautiful and amazing," she said.
If you didn't make it this year, get as close to the action as you can by perusing the photo booth shots on Facebook. Photographer Jessica Rycheal and designer Roldy Ablao made every attendee feel like a star.