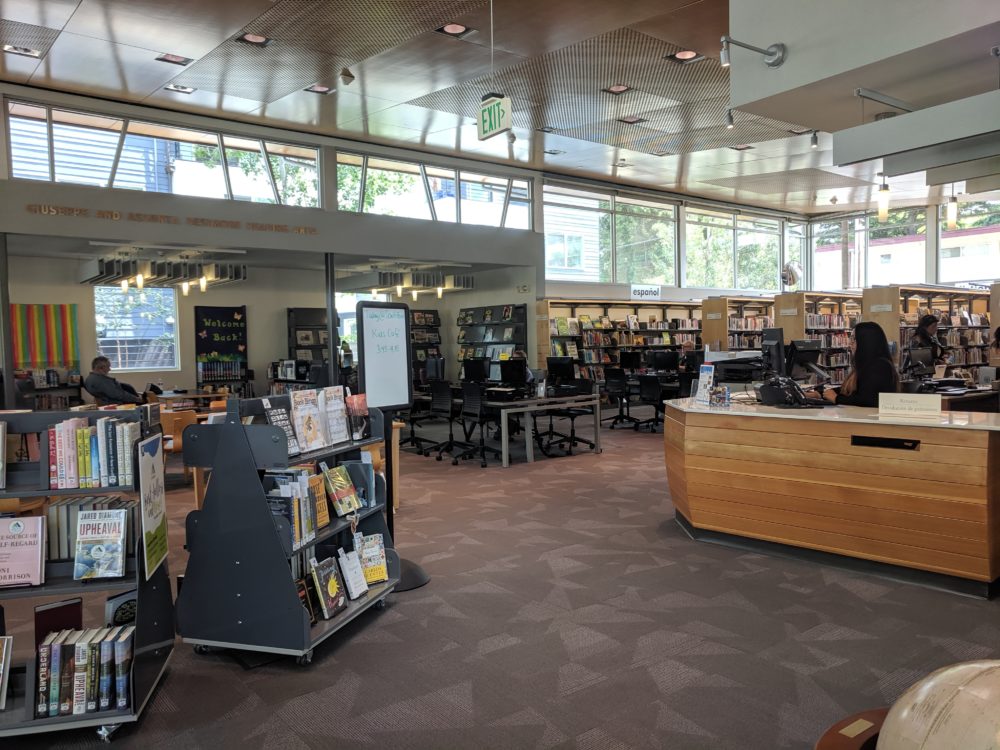 Paulina's three children counted down the days until the South Park Branch of The Seattle Public Library reopened June 10.
Living just a block from the branch, the South Park library is a near-daily part of her family's routine. She goes there to get some work done while her kids read books and use the computers.
The branch was closed for eight weeks while undergoing a makeover, with financial support from donors to The Seattle Public Library Foundation, the 2012 levy approved by voters, and REET (real estate excise tax) funds. What had been a difficult space for the small branch to host its popular community events turned into a brighter, more open space with greater flexibility to adapt to the community's needs.
"I think the Library looks more open, more beautiful," Paulina says. "I like the new colors. It looks bigger."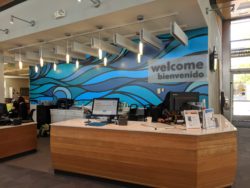 A re-opening celebration will take place at the branch from 2 to 5 p.m. Sunday, July 21, as part of a community celebration complete with speakers, booths and activities for all ages.
To the left of the front entrance is an updated kids' area with new furniture and a bright green bamboo motif painted on the wall. Ahead is a teen area, likewise furnished with new seating and a bold paint job. Imposing shelves throughout the building are replaced with movable shelves and comfortable seating areas with plenty of outlets for charging electronics.
"We really increased all of our seating capabilities," says Lupine Miller, supervising librarian of the South Park branch.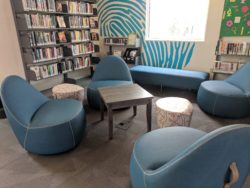 The mobility of the shelves lets Library staff carve out unique spaces suited to each event hosted at the branch. Previously, popular programs for Dia de los Niños, Summer of Learning, and Dia de los Muertos attracted crowds that were crammed into the tight space, Miller says.
"It's lovely," she adds of her impression of the space. "It just feels a lot lighter. There's just more of a flow."
A regular patron named Israel worked at a computer last week, where the computer stations were turned from closed-off cubicles to a more open configuration in which everyone can see each other.
He said he likes the branch's updates and is happy to visit again after spending two months visiting libraries farther from his home.
While the branch was closed, the nearby community center hosted Story Times and the Bookmobile to fill the void – activities that Paulina says she brought her children to attend while they waited for the library to open again.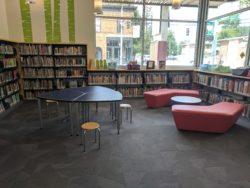 "This neighborhood doesn't have a lot of other options," Miller says of South Park's amenities.
But as soon as the branch re-opened, people returned to read books, send faxes, and, for some children, try out every new seat in the building.
"People were really happy when we opened back up," Miller says.
In 2019, the Foundation committed $250,000 for capital improvements at branch libraries, an initiative known as "Reimagined Spaces." The effort uses cost-effective and efficient strategies to update a branch location with minimal disruption to the communities they serve.
The South Park Branch is located at 8604 Eighth Avenue South.