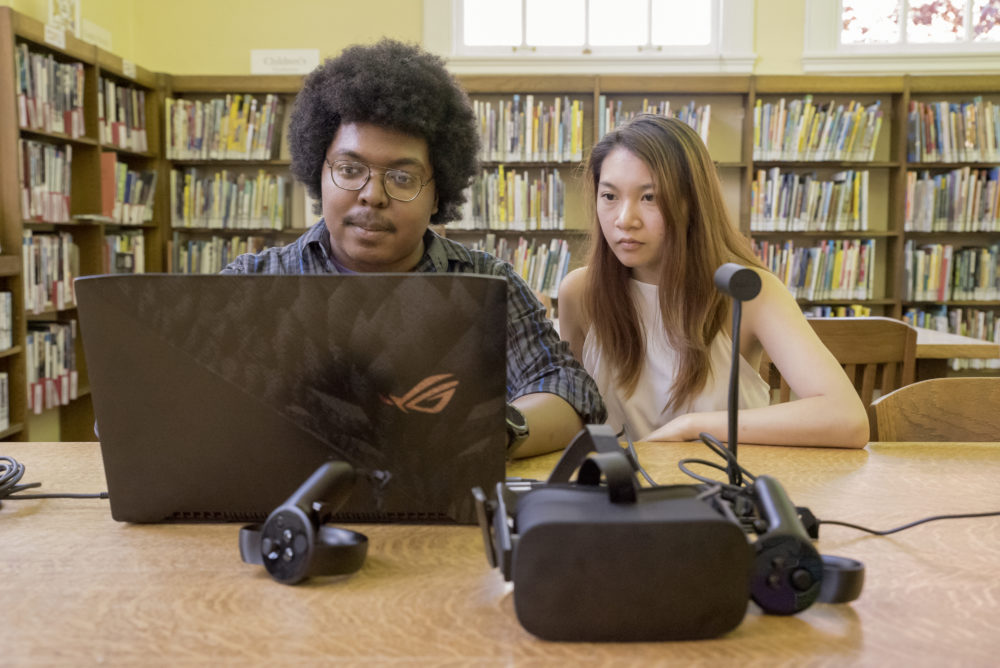 This story originally appeared in the Foundation's 2018 Report to Donors. Find the full publication here.
Last year, The Seattle Public Library expanded its Digital Media Learning programs to include a virtual reality program that promotes the Library's collections in creative ways and educates people on local history in the process.
Cara Pangelinan, a junior at University of Washington, applied to work on the virtual reality project "kind of on a whim."
She had no experience with virtual reality, but as a double-major in English and human-centered design engineering, she knew it fit in to her academic focus of designing products for intuitive public use.
Stephen Cooper is a senior computer engineering major. He said that because of his internship working on the Library's virtual reality exhibits, he developed skills that would propel his career.
Both UW students earned the internship through the Louis Stokes Alliance for Minority Participation grant, which aims to recruit more people of color into STEM (science, technology, engineering, and math) fields. They developed a virtual reality exhibit hosted by the Central Library about the Great Seattle Fire of 1889. Users acted as volunteer firefighters to learn about the massive blaze and why it prompted Seattle to rebuild the city in its wake.
The Library's goal through its virtual reality program is to connect users with The Seattle Room and Special Collections, bringing their historic archives to life in an interactive way. It will continue to unveil new exhibits, with one featuring the historic Duwamish River set to debut in the Fall.
"I learned a lot from the experience that I don't think I could have in a traditional classroom setting," Cara says.
Nearly 800 visitors tried out the exhibit for themselves in February.
"It was really important for us to convey the history of the entire event, really bring the user to the knowledge of what happened and why it was such a big deal," Stephen says, "and why we had to change the city to make sure it never happens again."
Stephen credits the project with helping him land a prestigious summer internship at HBO, working on the TV network's streaming services at its Seattle office.
"Virtual reality has given me a skillset I can use in the future," he says. "It really helped broaden my horizons and helped me leverage my own endeavors."