Anyone living in Seattle 30 years ago or earlier will remember Frederick & Nelson, the retail institution whose flagship department store in Seattle once served as one-stop shopping and a cultural hub.
From its tearoom to its beauty salon to its nursery to the annual photos with Santa Claus, Frederick & Nelson was a commercial force in Seattle until its closure in 1992.
Debra Cox, special collections librarian, laid out several Frederick & Nelson staff newsletters from the 1940s in The Seattle Public Library's possession, pointing to the profiles of employees who were sent off to war during World War II.
The twice monthly internal newsletter, titled "Between Ourselves," serve as an "absolute snapshot of the culture of Frederick and Nelson," Cox says.
"It wasn't just a place to work, it was a lifestyle."
These publications are only part of a new archive made public this month in The Seattle Public Library's Special Collections, called the "Frederick & Nelson Collection."
Patrons can now visit the Seattle Room at the Central Library and explore eight boxes of materials from the Northwest department store chain, including training books, catalogs, photographs, newspaper articles, and buttons. The "Between Ourselves" newsletters alone date back to 1926.
"They're hard to resist," Cox says.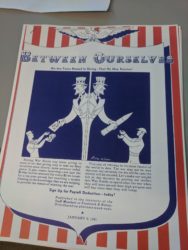 The Frederick & Nelson collection is part of the Special Collections staff's continual effort to gather materials critical to Pacific Northwest history and make them accessible to visitors, both online and at the Central Library. Other collections detail the World's Fair, building surveys across Washington state, and menus throughout history from popular local restaurants.
The Seattle Public Library Foundation granted $50,000 this year to the Seattle Room and its efforts to acquire and preserve special archival materials.
These unique archives of Seattle history are why Claudia Skelton, member of The Foundation's Board of Directors, has given her time and financial support to the Library for about two decades now.
The Special Collections are the part of the Library she's "most addicted to," she says.
"Having a Special Collections in a public library is particularly unusual and really special," Skelton adds. "That's how we learn a lot about the history and how our culture evolved over decades and centuries. You can sit there and gain access to a lot of materials you wouldn't find in most libraries."
A visit to the Level 10 of the Central Library will immerse you in historic maps, old high school yearbooks, and photos showing how Seattle has changed through history. As Skelton notes, the staffers there, including Cox, lend their expertise to show visitors exactly what they're looking for.
"You get more than just the data," Skelton says. "You get the culture and the history and the story on what was going on."
Skelton has even helped a close friend in California writing about the Klondike Gold Rush just by stopping at the Seattle Room and locating information for him.
She's also slowly working on piecing together her family history – her main passion – by consulting the genealogy librarians who work in Special Collections on Level 8 of the Central Library.
Skelton directs her donations to The Foundation to Special Collections so it can maintain its special place in the city and its unique access to the public.
"It's really critical that we continue to focus on the Seattle history," she says. "That's really what I care the most about."
Visit Level 10 of the Central Library to see the items for yourself.