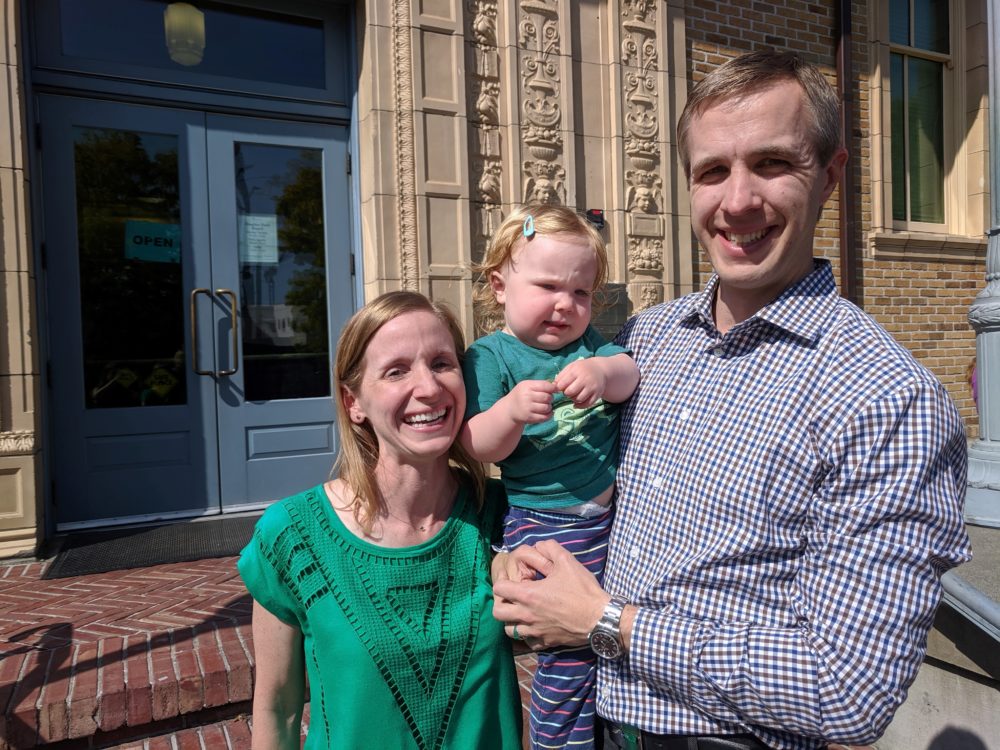 Jed Fowler says you don't need to be a brainiac to volunteer at Homework Help.
As a longtime Homework Helper, he says his role consists of "part cheerleader, part coach, part road block diagnostics.
"Sometimes it's about the homework, sometimes it's about the helping," he says.
Homework Help is an after-school drop-in program for K-12 youth that supported 12,000 student visits across 11 branch libraries last year. The Foundation supports these tutoring sessions as part of the slate of Youth and Family Learning programs it funds.
Fowler and his wife, Elisabeth Beaber, have volunteered for seven years as Homework Helpers at the Douglass-Truth Branch in the Central District.
They've also supported the Foundation as donors for six years.
Beaber was inspired by her ancestry to start volunteering at the Library. Her grandfather immigrated through Ellis Island and never attended high school, but he emphasized the importance of education with his own children.
Beaber, herself now a staff epidemiologist at Fred Hutchinson Cancer Research Center, says she's "paying it forward."
After one year at Homework Help, Fowler – President of H.D. Fowler Company in Bellevue – joined in. Self-described math specialists, they now take turns on their weekly shift so they each volunteer once every other week.
"What I really enjoy is talking to high schoolers about their aspirations and ambitions," Beaber says. "I like to share my path and hope it gives students some ideas."
While most kids need direct homework help, others use Homework Help to play educational games during the period before their parents come home from work. Most of the kids at Douglass-Truth speak a language other than English at home making it difficult for their parents to look over their schoolwork, Fowler says.
The couple counts problem-solving among the most important skills as a Homework Helper.
"You don't need to know about trigonometry, you just need to know how to learn about trigonometry," Fowler says.
And if there's something you don't know, reference librarians are always there to help – giving the students and grown-ups alike some research assistance.
Thinking of becoming a Homework Helper, yourself?
"Definitely try it out," Beaber says. "Everyone has something to offer in terms of being an adult advocate."
Homework Help will accept volunteer applications throughout the fall. Tutors are especially needed at the Columbia, NewHolly, Rainier Beach, and South Park branches.
For questions about volunteering for Homework Help or an array of other Library programs, contact Volunteer Services Coordinator Anne Vedella at volunteer@spl.org. Learn more about the programs in need of volunteers at The Seattle Public Library's website.
"I can't imagine a place that's more fun to volunteer than the Library," Fowler says.