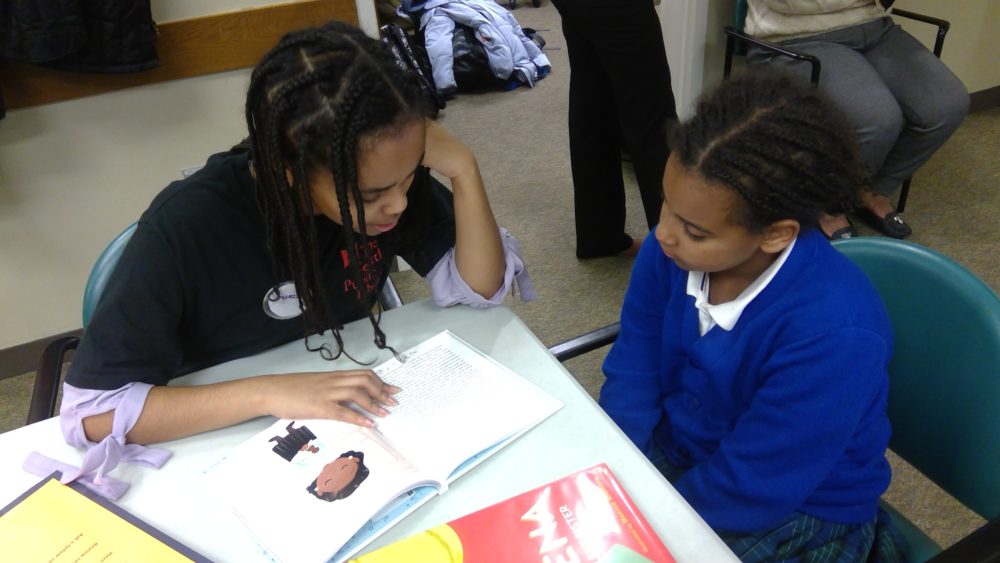 Elementary students look up to older kids in awe. So what happens when the Library creates a program for teens and young students to learn together? We found out when we met high school student Christina and 9-year-old Madeline.
Christina was reading "Strega Nona and the Twins" to Madeline at the Columbia Branch. Strega Nona was ready to soothe the rowdy twins in the story with a "magic potion."
"What do you think she made?" Christina asked.
"I think she's going to make spaghetti," Madeline said.
It was a good guess – but the "magic potion" was warm milk and honey.
The point wasn't to get Madeline to correctly guess the outcome of the story – it's that Christina engaged her in a story as they read it together, nurturing and early love of reading. And that's the whole point of Learning Buddies, a Library program for high school students and elementary-age learners who work together to learn not just reading and math, but social and emotional connection.
Learning Buddies, supported in part by donors to the Foundation, is offered at six branches and engages high school students as volunteers to give one-on-one tutoring to children in kindergarten through fifth grade. It's a dual benefit to all involved: while "Little Buddies" work on their reading and math, the teen Learning Buddies learn how to tutor kids and gain work and leadership experience.
Ngan, a 15-year-old Franklin High School student and a Learning Buddy, says the program fits neatly into her goals of becoming a teacher.
"This program is good because I can be with kids and have some experience for my future," she said.
The downstairs classroom used for Learning Buddies at Columbia last week was abuzz with nine teens and 13 "Little Buddies." Parents come and drop off their children, who are paired with a teen mentor for some reading, followed by snacks and math-oriented games.
Kids picked out books from a table packed with a variety of titles, with covers and content featuring diverse characters and perspectives. Later, Henok, another teen Learning Buddy, taught three Little Buddies about prime numbers with a board game. Meanwhile, Learning Buddy Lalla helped another Little Buddy with addition and subtraction on his fingers as they played a different game.
Richard Counsil, teen librarian and facilitator of the Columbia Branch's Learning Buddies, tries to make sure one-on-one pairings are made at each session, but that night, some teens took on two or three kids.
Richard himself recruits Learning Buddies and Little Buddies from organizations in the Columbia City area, such as Horn of Africa Services, working to ensure the teens reflect the cultures and communities they serve and the Little Buddies see successful teen role models. Many of the kids speak languages other than English at home.
"(Richard) really exemplifies what it means to partner with the community," said Ayan Adem, public service programs manager at The Seattle Public Library, and the manager of the systemwide Learning Buddies program.
He mentors and trains the teens over months and sometimes years, and builds relationships with the young kids' families.
One parent who appreciates that effort is Netsanet, who brings her two children, 10-year-old Mahta, and 5-year-old Kalieb, to Learning Buddies every week.
"Richard is wonderful," Netsanet said, adding that he checks on every child and knows them by name. "Our children get supported every time."
She especially loves the interplay between the young children and teens and what they learn from each other.
Her children benefit from the teens, she said, "They learn a lot from them, they share their knowledge, they teach them to be a leader."
Netsanet's kids look forward to Learning Buddies every week. Then they come home, telling their mother what they read that day.
She especially appreciates the extra education they're getting, as English is their third language at home, after Amharic and Tigrinya.
"I want them to be a reader and writer," she said. "If they like reading, they can do other things well, also."
Mahta, Netsanet's daughter who attends St. Edward School, said she's been attending Learning Buddies for three years.
"They help me with reading and hard words so I can learn more than I ever knew before," she said.
After the Little Buddies leave, the teens clean up and sit down for a final half-hour session of reflection and training.
Teens volunteer for Learning Buddies during the school year and gain service learning hours. The Library offers the program at the Beacon Hill, Columbia, Douglass-Truth, Greenwood, NewHolly, and West Seattle branches.
During the summer, the Library pays teens a stipend to keep the program going at two locations: Columbia and Beacon Hill. The paid summer gig incentivizes participation from kids who might otherwise need to work elsewhere to help support themselves and their families during the summer months.
Last year, 113 teens served 174 little buddies across the city, attracting 1,522 visits from the younger students throughout the year.
Learn more at spl.org/LearningBuddies.