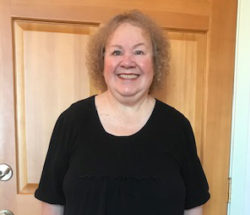 A few years ago, Ballard resident Roberta Wells injured herself twice, prompting extended nursing home stays and affecting her mobility.
"My whole life was altered," she says. Once a fixture at the Ballard Branch of the Library, Roberta turned to another service to keep her Library books coming: Books By Mail.
The Seattle Public Library – as part of its Foundation-supported Mobile Services that include the Bookmobile and home book delivery – serves about 75 people through Books By Mail, which allows patrons unable to leave their homes to check out up to 15 items per month with an easy system that's free to users.
They can even check out Wi-Fi Hotspots to gain internet access. Roberta maxes out her monthly allotment with books, CDs, and movies on DVD, she says: "I push them to their limits."
She enjoys checking out historical romances, Christian books, and Ken Burns documentaries.
"It works really well for me," she says of the service.
Tyler Bosma, who processes the Books By Mail materials, says its popularity has soared since the Library increased patrons' monthly limit of items a few years ago from five to 15. They circulate about 250 items – or 90 packages – every month.
Any Seattle resident who is unable to travel to the Library due to disability or illness for six months or longer can call or email the Library to discuss  whether this service would meet their needs.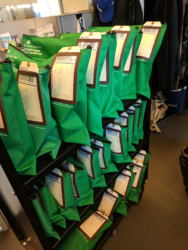 "It's so easy to add them to our service," he adds.
Patrons receive a green pouch full of Library treasures and, when it's time to return items, they simply flip the attached address label and let the Postal Service take the bag back to the Library.
Roberta says her neighbors at her senior apartment complex know when she's received her green bag: "They usually see me smiling." And several of her neighbors use Books By Mail, too.
Are you or a loved one unable to visit the Library and want to sign up for Books By Mail? Contact the Library at 206-386-4636 or email bookmobile@spl.org.
Bosma says patrons can request specific items, or explain what they're interested in and allow librarians to pick for them. One patron, for example, requests four large-print mysteries per month and allows librarians to select the titles.
Roberta, a former fifth-grade and Sunday school teacher, says she's grateful to continue reading with the help of the Library; books are her "drugs of choice," she says.
Books By Mail keeps her from venturing out into dangerous terrain during the winter and minimizes her risk for more injury.
"I really want to spread the news because I am delighted with this," she says.
Learn more at www.spl.org/MobileServices.
This story appeared in our Winter 2019 newsletter, The Next Chapter. Check out the full issue here.
The Next Chapter | Winter 2019 by Lynsi on Scribd