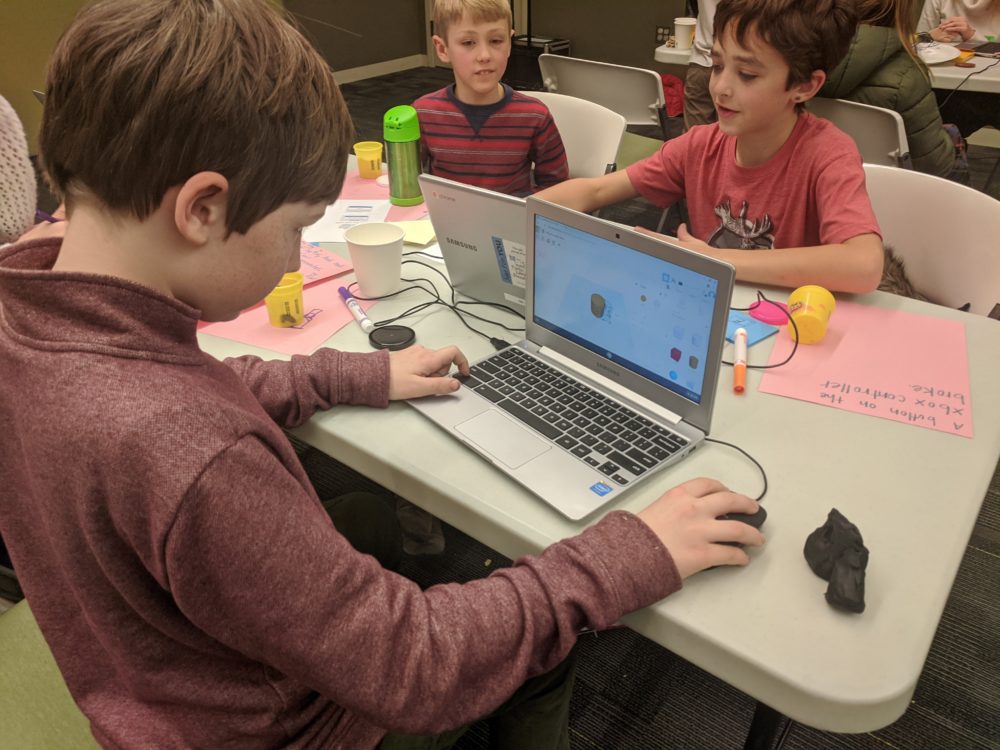 One late afternoon in the The Seattle Public Library's Greenwood Branch, graduate students from the University of Washington asked a group of kids what problems they encountered that day.
The kids discussed a few issues, like difficulty keeping their Harry Potter book open while trying to read it, or the pet dog who lost his leg after a car crash.
The next question: How can these problems be solved with 3D printing?
That question was the premise of the 9-week program this fall called KidsTeam, in which professors and graduate students at the University of Washington iSchool test digital- and design-focused curriculum on children ages 7 to 12 and use their feedback to refine their future Library programs – an approach known as "participatory design." The iSchool uses that feedback to help improve and expand the program throughout the SPL system.
Kids are not only engaged by the interactive curriculum, but pleased to know that their opinion matters to the adults teaching them. They have buy-in on the whole effort.
"There's such rare time that an adult wants to sit down and listen to a kid," said Jason Yip, assistant professor and director of KidsTeam UW.
While largely supported by a grant from the Institute of Museum and Library Services, donors to The Seattle Public Library Foundation cover the equipment used in the program, such as the laptops children use, and the staff to support the effort, led by Juan Rubio, who administers KidsTeam in four Library branches: Columbia, Greenwood, Rainier Beach, and Broadview.
In the past, KidsTeam hosted participatory design classes exploring sumo-wrestling robots, electronic circuitry, and storytelling through video games. In the spring, the KidsTeam will collaborate with kids at the Broadview Branch on "e-textiles," or how to create wearable items that light up.
But back to the 3D printing.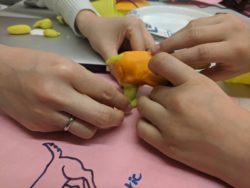 By the time kids were asked to solve everyday problems with 3D printing technology, they already knew how to use TinkerCAD, a computer program that allows them to design objects that can then be created in a 3D printer. They also used other approaches to design their solutions that day, such as markers, construction paper, pipe cleaners, and Play-Doh.
Talia, 10, used Play-Doh to construct a solution to the real problem in her life: it was her dog, Henry, who lost his leg. So she molded a prosthetic leg and harness to help him. Alex, 9, took on her problem and got to work on TinkerCAD to create a prosthetic leg that could be 3D-printed.
"We've learned a lot about how kids react to 3D printing," Yip said of the course. With Yip's help, the children explored many related questions throughout the quarter: How do we make the 3D printer more inviting? Can shapes help me make sense of 3D design? How do we transform from 2D to 3D? How do we talk about the objects we made? Each of those sessions was thoroughly documented by Yip and his graduate students to make improvements for future Library programs.
Not only is the kids' beneficial to the Library, but it will inform how KidsTeam expands across the country. The UW team will take what it learned from the Library and implement their lessons at new iterations of the program at library locations in Spokane, rural areas of Eastern Washington, and even San Diego.
At The Seattle Public Library, the program will eventually be used by teen and children's librarians and administered by teen volunteers who will work with the children. That model is already underway at the Columbia Branch.
Erin Moehring, a children's librarian at the Greenwood Branch who assisted with KidsTeam sessions, plans to host the program at her branch.
"I've just been so excited to see what we can learn from the kids and engage with all the technology," she says.
KidsTeam hosted a capstone party for the kids and their caregivers earlier this month during the ninth and final week of the 3D printing program. Yip reviewed what they learned in a slideshow while kids enjoyed chips, candy, and sparkling water.
Michelle Martin, mother of 9-year-old participant Alexis, said this was her daughter's second time participating in KidsTeam.
"She never wanted to leave at the end," she said.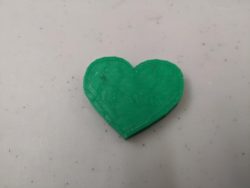 Of the participatory design model, she added: "(The kids) enjoy being asked their opinions. It's neat that they're such an important part of this research."
Ilya Goldberg, dad to the intrepid prosthetic leg designer Alex, said, "It was good because we like to get him to do new things. He definitely seems to enjoy the variety."
Sisi, 11, treasured the heart she designed and had 3D printed, with her name etched onto it.
"I like working with the kids and I like that we got to learn about 3D printing," she said.
Sisi also understood how 3D printing technology fits into modern society.
"Now it seems like we have a new solution, like if someone has a bone that couldn't be replaced, you can use 3D printing," she said. "It's a new way to solve a problem."