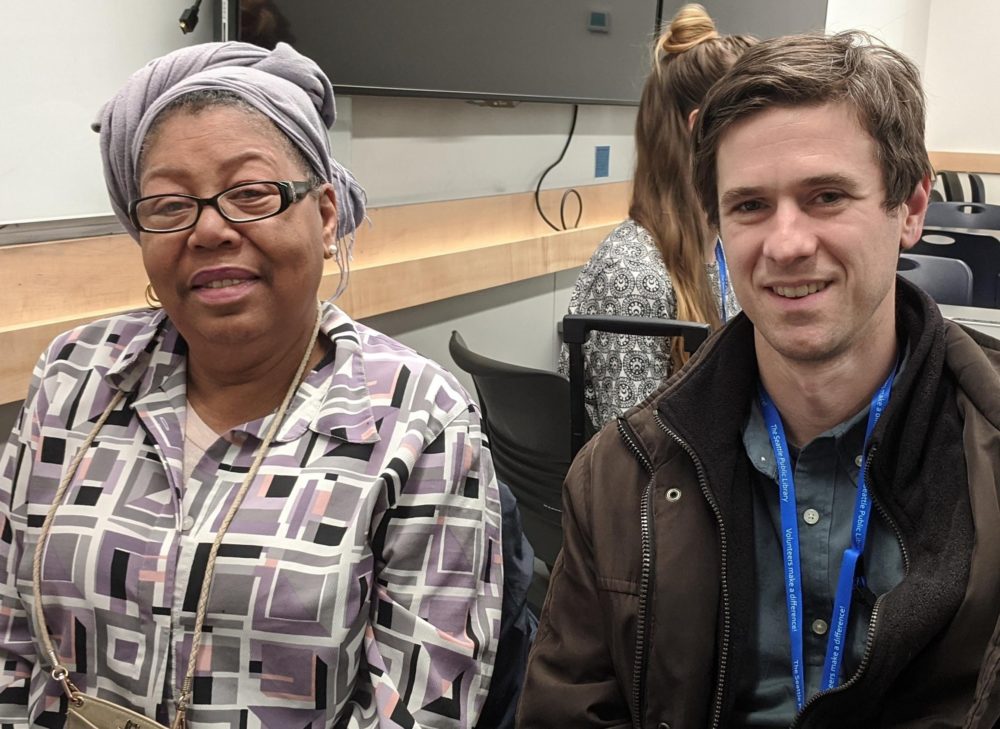 Barbara Moreland, 67, wanted to help her 10-year-old grandson, who is deaf, when she realized he wasn't receiving the support he needed in public school.
Not only did she decide to homeschool him, but she went back to school herself at the University of Washington to study special education – all this on top of her job as a King County corrections officer.
But like many people in our community, she struggled with learning math.  And in college, more than 100 other students in her classes need help from the instructors.
So she turned to The Seattle Public Library's Adult Education Tutoring program at the Rainier Beach Branch, where she receives individual support on her homework, which has allowed her to earn her special education degree.
"I would not have been able to get that degree without some help," Barbara says.
Adult Education Tutoring is a Foundation-supported program that helps adults achieve their goals at three Library branches: Central, Broadview, and Rainier Beach. There, trained tutors work with students on a variety of skills.
While the most frequently cited goals by students are attaining employment (36 percent) or learning English (35 percent), they come in with several different needs to improve their lives.
That can range from trying to obtain a driver license to learning the English vocabulary to shop for groceries. Others are working toward high school equivalency, U.S. citizenship, or, like Barbara, trying to complete their homework.
What sets Adult Education Tutoring apart among Seattle's various tutoring services is that no one needs to be a formal student anywhere or meet any special qualifications, says program manager Meira Jough – and it's all free. It's the only walk-in tutoring program in the city, she indicates.
"Because of Foundation support, we can say, 'Anybody who needs to come can come,'" she says.
The Foundation supports the purchase of books and beginner literacy and citizenship instructional materials that are given to students, also free. That's meaningful to attendees, Jough says, who often face cost barriers to education.
"We're going to support you in your learning, whatever that means," she says. "That's the message we're sending."
Barbara has felt that support and says she's appreciative of the consistency of tutors throughout her last 3 ½ years of attending Adult Education Tutoring.
"They know my style and they know what I'm studying," she says. "I feel that I'm successful because of them."
She and other students – from college undergraduates to fellow grandmas – share in each other's successes and even their trials. Though another grandson – other than the one who is deaf – was tragically killed in a 2017 shooting, Barbara kept coming to Adult Education Tutoring to press ahead with her studies.
"I never stopped coming to tutoring," she says. "To be able to come here and spend time with people who knew I was grieving and just helping with the math, it was therapeutic because we have a relationship here."
She now feels better equipped to help her grandson and continues to work on her math so she can achieve a minor geared specifically for educating the deaf and hard of hearing. She also brings him and another 16-year-old grandson to the Library for Homework Help after school.
Barbara credits her longest-term tutor, volunteer Nick Crivello, with much of her success, namely in graphing.
"It's great how she's trying to help her grandson," Nick says. "We've made a lot of progress."
To learn more about Adult Education Tutoring and other Library programs for adult learners, visit the SPL website at www.spl.org/basicskills.