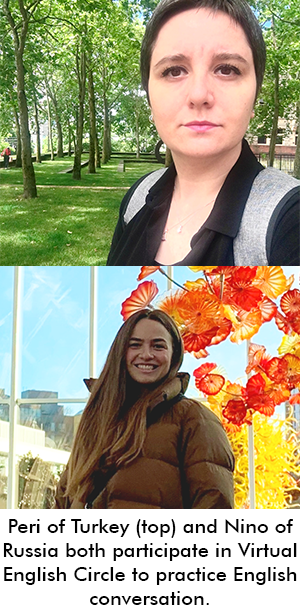 Earlier this month, more than a dozen people representing seven countries gathered in a Zoom video meeting to discuss a universal passion: food.
They started off by introducing themselves and their favorite snacks: nuts, cheese, chocolate.
It was a continuation of a long-running program, but in a new way, uniting people online instead of at a Library branch. Since Libraries closed in the wake of COVID-19, English Circle (formerly known as Talk Time) has moved online.
And now much of the same community that met in person are going on Zoom, says Walter Mehring, program coordinator at Literacy Source.
"We were lucky enough to create this really cool community and it seems pointless not to keep in contact with those people," he says.
English Circle is a joint effort between Literacy Source and The Seattle Public Library, with support from The Seattle Public Library Foundation. Participants during the years have been native speakers of more than 100 languages and come to English Circle to practice their conversational English.
After introductions, volunteers who moderate discussion and the participants looking to practice are broken up into smaller online groups for more intimate conversation about an assigned topic.
In one group, volunteer Carol Pucci continued the food conversation with Nino Antauri of Russia and Peri Aytaç of Turkey.
The women discussed more of their favorite foods. Nino, whose father is Georgian, said she loved khachapuri, a quintessential Georgian dish of bread stuffed with cheese. Peri mentioned experimenting with cooking different pasta dishes and exchanged ideas for quiche ingredients.
Peri has attended English Circle for nearly a year.
"My main goal is reaching advanced level in English and the related part of my goal with English Circle is to improve my speaking along with my accent," she says. She also wants to improve her "listening by talking with native and non-native participants."
Nino shares that goal and mentioned the sense of community that English Circle brings.
"All the people at English Circle (are) related by one purpose … to improve the English and maybe to find new friends at (a) new place," she says. "And it is very good to realize that there are people who want to help you to adapt faster and with lots of fun. That is appreciated so much."
Volunteers say they've witnessed tremendous progress among the participants. Volunteer Mark Taylor mentioned Roberta, a woman from Taiwan who attended what was then known as Talk Time.
People who knew her through the class watched as she blossomed and became fluent enough in English to curate and host a photography exhibit at Seattle Central College and gave a presentation in English to a class of students that stopped by.
She became a volunteer at the Nordic Museum, and once she got legal authorization to work, she got a job there, Mark says.
Volunteers and participants alike also say they enjoy learning about other cultures. They share what they learn at the end of each class.
As for food, people learned about how Colombian food is different from Mexican food, how American Thai food is made "too sweet," and that rosemary is an easy-to-find shrub in the Pacific Northwest.
"It's a social event," says volunteer Carol Pucci. She says English Circle is a low-pressure environment in which English language learners can practice without being put on the spot. "The whole idea is to have conversation."
For a schedule and to register for Virtual English Circle, visit www.spl.org/EnglishCircle.