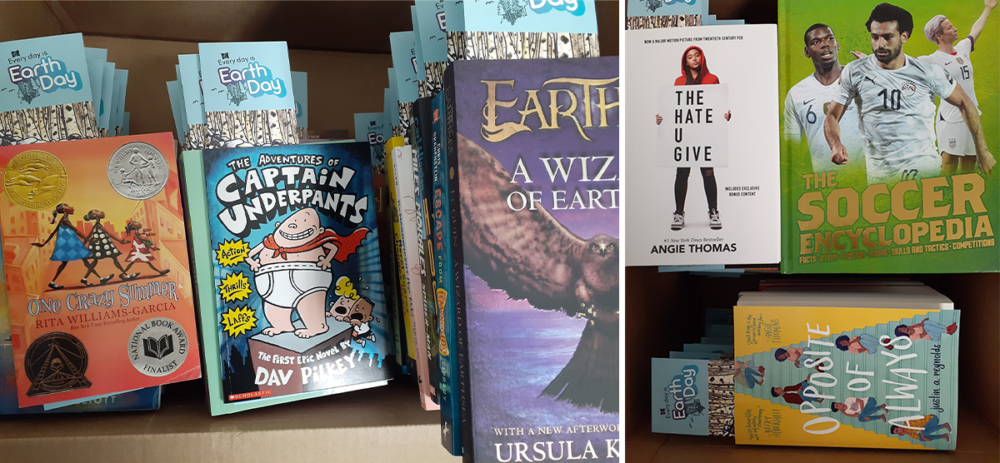 Every summer, branch librarians would give away free donor-supported books at outreach events with community partners and at summer Library events to ensure Seattle kids have access to books in their home.
But in the wake of the COVID-19 pandemic, kids and families are not convening in person. The book giveaway was almost lost.
This is a critical part of the annual Summer of Learning program because it helps prevent the "summer slide" of education. Studies show that the bigger that kids' home libraries are, the better they perform in school, with educational benefits lasting into adulthood – and the impact is greater for kids in lower-income homes.
This year, the Summer of Learning book giveaway looks different. Children's and teen librarians from branches across The Seattle Public Library system are working to secure books for prioritized neighbors who have faced barriers to accessing books because of the sudden shutdown of schools and libraries.
"We were hearing from our community partners that families wanted and needed books for their children and teens," says Lauren Mayer, a children's services librarian at Central Library who is part of this effort. "They really wanted books and they really want non-digital learning supports."
In past years, the Library committed to giving at least 50 percent of its Summer of Learning books to prioritized kids. This year, the goal is 100 percent.
"This year our book giveaway is more focused," says Wendy Israel, teen services librarian at the Beacon Hill Branch. "I like this because I know it's going to support our local community organizations."
Israel is working with organizations like WA-Bloc, Young Women Empowered, Mount Baker Village, and El Centro de la Raza to distribute books for kids and teens in virtual leadership programs, limited-capacity summer camps, low-income housing, and more.
"It's really been incredible," Israel says. "It just feels like a huge blessing to have the funding to do this."
Richard Counsil, teen services librarian at the Columbia Branch, is working to find organizations with the capacity to distribute books. Some groups have relocated, his contacts have lost employment, or staff capacity to handle the books is reduced.
But he is sending 50 books to YouthCare, an organization that assists and youth and young adults experiencing housing instability. YouthCare plans to use many of the books to start a library at one of its housing programs for people ages 18-21 and another portion will go to its home for youth who identify as LGBTQ+.
Not only do Counsil and his colleagues strive to "lead with race" and​ to seek out youth furthest from academic and social justice, but they also select titles and authors from BIPOC and LGBTQ+ communities so youth can find joy in seeing themselves while reading.
"The attempt and the effort librarians put into curating (book) lists that represent authentically who people are – you get really positive responses," Counsil says.
Holly Williams, the in-kind specialist at YouthCare, says that the books help them engage youth when quarantine orders have limited their activities.
"This donation came at a really great time when youth had been spending a lot of time inside," she says, adding that teens plan to start a book club at various housing communities.
And she was able to pass along the residents' requests to the Library to obtain titles relevant to them.
"Having young people read about individuals, places and situations that are similar to theirs helps them to see that they are not alone in the struggles they face," says one YouthCare employee who works at the 18-21 house. "When people read something that resonates with their own life experience, it is earth-moving. It is especially important when an underrepresented population gets to read that their experience is valid and important."
Other examples of the 66 (and growing) organizations served by the Summer of Learning book giveaway include the Ballard Food Bank, the Yesler Terrace low-income housing community, Seattle Indian Health Board, Boys and Girls Clubs, and more.
Israel says she is glad to be able to serve Seattle kids, even while she can't see them.
"These are the kids I would have seen just walk into the Library," she says. "I'm very happy we can get these books to them."
Mayer is thankful for the donors and Library staff who make this work possible.
"We're just so grateful to the Foundation for their support," she says. "It's because of that support, and the hard work of our community partner organizations and Library staff that books are getting out to youth and families even in difficult times."
The annual Summer of Learning and its book giveaways are possible because of donor support to The Seattle Public Library Foundation.