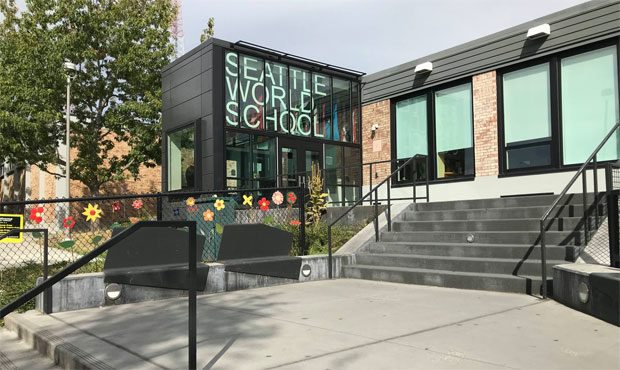 The Library purchased 50 new Wi-Fi hotspots to lend to families with children enrolled at Seattle World School, with the help of individual gifts to the Foundation.
The Library, in partnership with Kandelia (formerly the Vietnamese Friendship Association), is also supporting these families by distributing learning kits containing books and other resources. The families received the hotspots and learning kits in August and will keep the hotspots for the duration of the school year.
The Seattle World School, located in the Central District, is a culturally and linguistically diverse school in the Seattle Public Schools district. It serves more than 300 secondary students, ages 11 to 20. It is one of only a few schools in the country designed as an entry point for children new to the United States, and helps them in their quest for academic achievement and full participation in American society.
"The goal of the partnership is to support remote learning and access to critical information during the pandemic for immigrant and refugee students and families who are also experiencing housing insecurity," says Ayan Adem, student success manager at The Seattle Public Library. "Seattle World School families are among those most affected by COVID-19."
The families will also receive instruction in their home language on using the hotspots. The learning kits include books selected for English language learners, student success resources, school supplies, and resources for adult learners.
The hotspots are part of the Library's SPL HotSpot loan program, which now includes an inventory of 1,050 hotspots – 675 available to any Library cardholder for 21 days, and 375 loaned on a long-term basis to communities with barriers to accessing the internet.
The Library offers other services to students and individuals seeking resources. Seattle Public Schools students can access all digital Library resources through Library Link; connect to remote learning resources; and explore high-interest topics through Exploration Guides. Individuals facing challenges related to job loss can make a one-on-one appointment (by phone or online) through Your Next Job. The Library has posted COVID-19 community resources on its website.