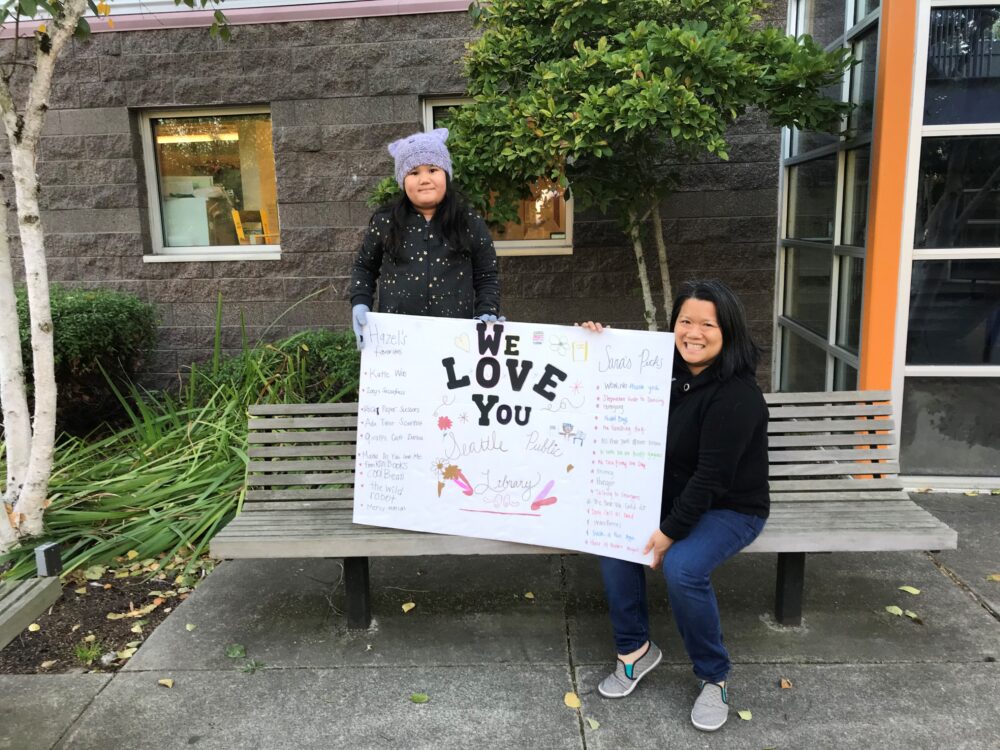 Sara Miller's home library—the NewHolly Branch—may be closed for now, but she and her family are using the Library as much as ever.
She and her 7-year-old daughter, Hazel, check out e-books using the Libby app and have used the Curbside Services at the Rainier Beach Branch.
"It's amazing," says Sara, a social worker at Casey Family Programs. "We've been really happy with the Library."
Sara also, with the encouragement of a friend, participated in Summer Book Bingo, reading about 25 books between July and September. Hazel completed the kids' version.
"It definitely made me stretch and I discovered some really cool authors," says Sara, who has also explored new titles using the "Your Next 5 Books" service.
For these reasons and more, Sara has become a Page Turner for The Seattle Public Library Foundation, giving a designated amount every month to maintain a continuous contribution to the Library her family relies on. She has also joined the Legacy Society, designating the Foundation as a beneficiary in her will.
"This is a place that most folks can access and it's a public service that we definitely love supporting," Sara says.
Both Sara and her husband grew up going to the library and they've come to find a sense of community at the NewHolly Branch, running into neighbors there and getting to know Library staff.
With NewHolly temporarily closed for COVID-19 safety measures, she has since explored the greater world of e-books and has found an emotional lifeline through reading.
"I'm so thankful to be doing a lot of reading now, especially in these times when things are so stressful," Sara says.
Sara and her husband have passed that passion on to Hazel, who will sometimes fall asleep amid a pile of books.
Hazel enjoys the "Ordinary People Change the World" series of books by Brad Meltzer and has recently read about strong women such as Ruth Bader Ginsburg and Malala Yousafzai.
"I really want her to grow up with a critical mind," Sara says.
Reading is something that not only the family can enjoy together—but that they can also share with their entire community.
"The Library is part of our community and there are so many services and so many resources out there that are hard for folks to access," Sara says. "But the Library (has) a lot of locations and even during COVID, they're working really hard to ensure they're able to reach the community."
To become a Page Turner yourself, visit give.supportspl.org/pageturner. To learn more about joining the Legacy Society, contact Kara McDonald, director of major and planned gifts, at kara@supportspl.org or 206-413-7177.
This story appears in the Fall 2020 edition of our newsletter, "The Next Chapter." Find the full edition here.