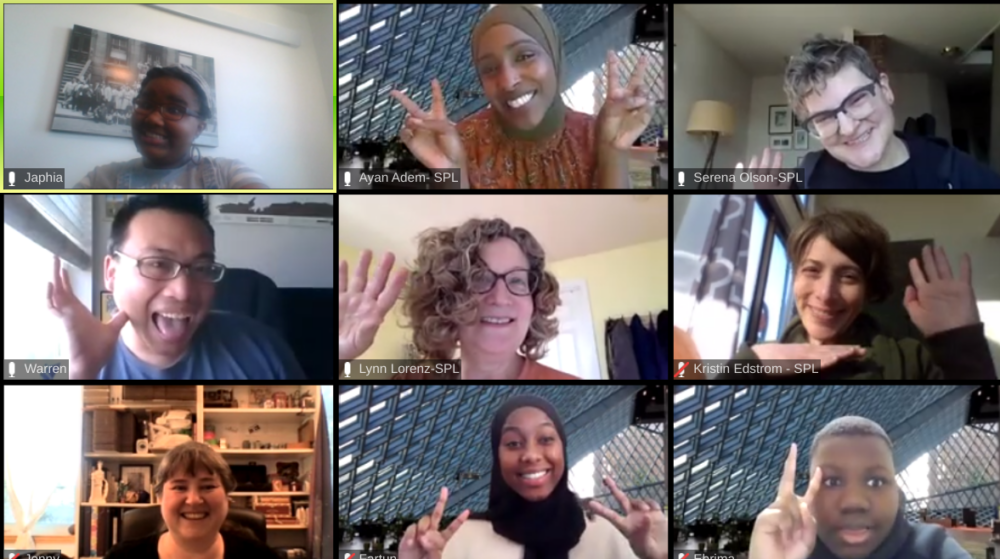 On a Wednesday afternoon in March, Siman Nuurali, the Somali-American author of "Sadiq and the Desert Star," spoke openly with roughly 50 kids about what it's like to come from an immigrant family.
"I don't want Somali kids to feel they have to choose an identity – being Somali or being American, like they're two different things," Nuurali said.
Of her main character, Sadiq, she added, "The life he has at home is the same life he has at school and with his friends. I wanted Somali kids to see themselves in the book."
Such representations were an intentional feature of this year's Global Reading Challenge, which presented Seattle's fourth- and fifth-grade public school students with seven books to read for the citywide trivia contest, all of which were written by Black, Indigenous, and people of color (BIPOC) authors.
But Global Reading Librarian Jenny Craig and Interim K-5 Program Manager Ayan Adem also wanted to reach more of the kids reflected in these books.
In partnership with Seattle Housing Authority (SHA) and East African Community Services, the Library hosted three virtual talks with Global Reading Challenge authors throughout March. The intent was to increase access to the program and reach youth furthest away from educational justice. Expertise from SHA staff led the guidance on the program design and marketing, fulfilling the Library's goals of delivering services by centering equity and community input.
"We really relied on their direction on how to engage families," Craig said of the community partners. "And it was really effective."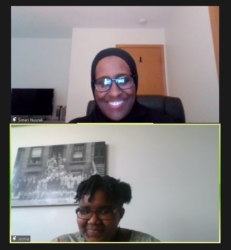 The author talks were promoted to families in the High Point, Lake City Court, NewHolly, Rainier Vista, and Yesler Terrace locations of SHA, as well as families that receive tutoring and support from East African Community Services.
According to the Library, about 62 percent of Seattle Housing Authority residents identify as Black or African – with Somali being one of the more frequently spoken languages – making for an audience that could see itself represented in authors like Nuurali.
The talks were hosted and moderated by paid teen interns – all of whom are also SHA residents – who were trained to present the program to the audience of younger kids.
Nuurali read chapters from two of her eight books in her Sadiq series and tackled questions from the kids.
Because of her experience as a Somali-American, much of the discussion centered on racial and cultural representation in children's literature.
"I had not seen a book where main characters and supporting characters are all Somali," Nuurali said of her childhood, adding that she wanted to reflect her five children in her books. "I wanted them to know they were present and they were seen."
A teen moderator, eighth-grader Japhia of Aki Kurose Middle School, chimed in that people of color in media are typically comic relief side kicks or characters carrying heavy burdens.
"There's this person of color and that person is always hurt or has a terrible background," she said to Nuurali, thanking her for instead writing about everyday BIPOC experiences.
Nuurali also shared her favorite author – J.R.R. Tolkien – and shared her advice on writing.
"Whatever is important to you, whatever is valuable to you, what ever is true to you, that's what you write about," she said, adding, "Literally just write!"
Additionally, the Library worked through SHA to distribute Global Reading Challenge books – and other promotional Library materials – to about 800 fourth- and fifth-graders, allowing them to own two of the three books discussed in the author talk series.
"This partnership was very unique in the sense that this was the first time we were able to partner with SHA (locations) throughout the city," Adem said. "That's really, really special."
Typically, the Global Reading Challenge engages thousands of students across Seattle Public Schools in a citywide trivia competition based on selected books, culminating in a final contest at Central Library. This year, the Library selected seven books to read and contests occurred online, only at the individual school level.
Adem and Craig estimate the virtual author talks reached more than 165 youth and families, with more to come when the events are ultimately posted to the Library's YouTube page for kids.
"What we saw was joy, what we saw was connection, and it was because of our intentionality from the very beginning that we were able to have such a joyful program," Adem said.
Donors to the Foundation supported the purchase and distribution of the books, the stipends for the teens, and the operation of the Global Reading Challenge program. We're proud to celebrate 25 years of the Global Reading Challenge's impact on fostering early reading habits and thank the Mannix Canby Foundation for being early and longtime investors in the program.