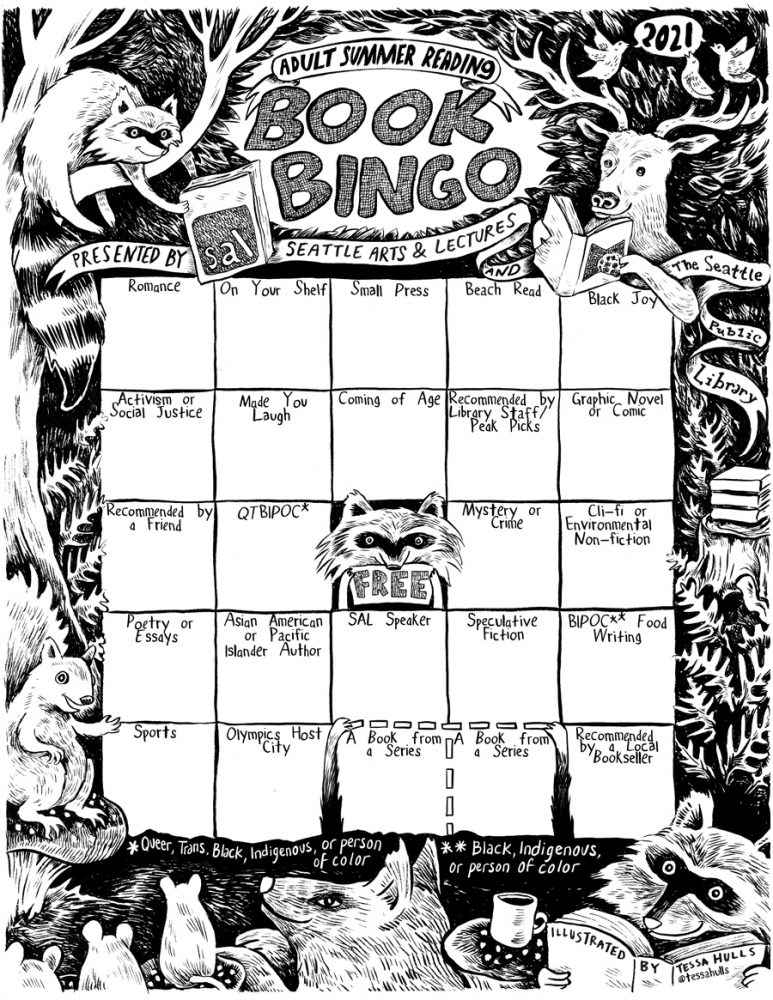 The wait is over! Start your summer reading NOW with the 2021 Book Bingo!
Adult Book Bingo, created by a partnership between the Library and Seattle Arts and Lectures, employs a local artist to create a bingo board of reading challenges that can be returned to the Library for the chance to win prizes.
This year's Adult Book Bingo was illustrated by Tessa Hulls, a local artist who is working on a graphic memoir set to debut in 2023.
"This year, Seattle Arts & Lectures and The Seattle Public Library wanted to center joy as well as a commitment to equity and inclusion in our category selections," says Misha Stone, Reader Services librarian at The Seattle Public Library. "We are grateful to our passionate, engaged reading community!"
A Spanish Book Bingo is also available, with the help of Seattle Escribe, Washington state's largest group of Spanish-speaking writers. Seattle Escribe contributed "transcreation," which is a type of translation that not just provides literal translations but adapts text to Spanish-speaking culture and context.
Book Bingo categories include "speculative fiction," "on your shelf," and "Black joy."
You have until Sept. 7 to achieve a bingo or even a blackout. Download your Book Bingo board – and find some book suggestions! – at www.spl.org/BookBingo.