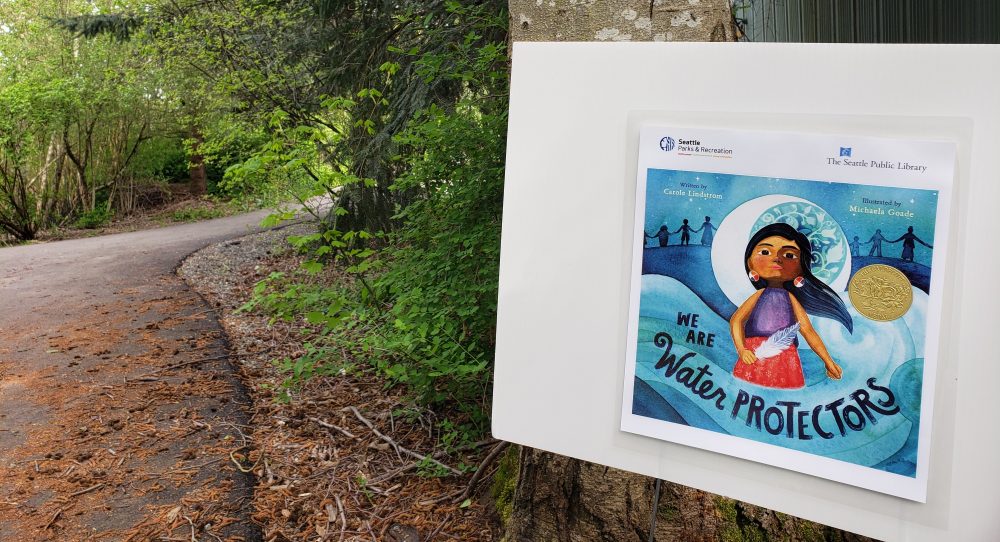 The Seattle Public Library teamed up with Seattle Parks & Recreation last month to celebrate a kid-friendly Earth Week with four StoryWalks® installed at four parks throughout Seattle.
The purpose was to offer a family-friendly activity in outdoor settings that fosters a connection between nature and literature.
Pages of children's picture books were installed in displays throughout each park to create a guided walk as the story progresses, which makes the activity socially distant by nature. StoryWalks® encourage reading, imagination, fitness, and exploring your community.
"We brought StoryWalks® to Seattle because we knew that the community (would) find it an enjoyable and safe way to recreate," says Lan Lum, a community naturalist at Seattle Parks & Recreation. "StoryWalks® have the potential to connect people to books, nature, and each other. They can provide meaningful shared experiences and spark conversations among families and friends."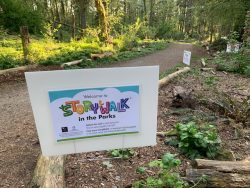 The book and park pairings were: Harlem Grown by Tony Hillery and Jessie Hartland at Genesee Park, The Storm Whale by Benji Davies at Magnuson Park, The Tin Forest, by Helen Ward and Wayne Anderson at Northacres Park, and We Are Water Protectors by Carole Lindstrom and Michaela Goade at Herring's House Park (Tualtwx). The Herring's House Park StoryWalk® was offered in partnership with the nearby Duwamish Longhouse.
Louisa Storer, Children's Services librarian at the Broadview Branch, selected the four books to go with each park and the Foundation supported the purchase of the books used in each StoryWalk®. The four parks were chosen because they are in different areas of Seattle, are easily accessible by public transportation, and serve some of our most diverse and underserved communities.
The StoryWalks® were exhibited at the parks from April 21 to April 24. The Library and Seattle Parks & Recreation may work on future StoryWalks® together.
The StoryWalk® Project was originally created by Anne Ferguson of Montpelier, Vermont and developed with the Vermont Bicycle & Pedestrian Coalition and the Kellogg Hubbard Library.