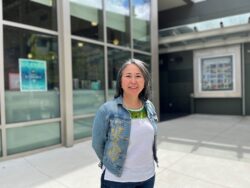 "The Library is my happy place," said Tania Hino, sitting in the Greenwood Branch. She was enjoying the return to full open hours and, soon, the chance for programs like her Spanish Story Time to return in-person.
For the past 16 years, Hino has been an instructor for the donor-supported World Language Story Time, a core part of the Library's equity-based youth programming. For the past two years, she's had to make creative adjustments to continue providing a program that so many families have come to rely on for community connection.
"It's well-loved," Hino said of her Story Time. Many of the same families have attended for years and built close relationships with Hino. After the COVID-19 shutdown, "my patrons were asking, can we do it outside? At a park? Can we figure out some way to do it?" Hino remembered.
The Library quickly provided instructions and support so Hino and other storytellers could restart programs virtually, through live Zoom calls and recorded videos posted to YouTube. "Families missed being able to convene in person," said CiKeithia Pugh, early learning program manager for the Library's Youth and Family Learning Services. "It was nice to see familiar faces online — storytellers were missed."
Making sure the Library remains a key part of children's lives is deeply personal for Hino. She came from Mexico to Texas with her family as a child, where she fell in love with reading thanks to free access to books and summer programs. When they moved to Seattle they experienced housing insecurity, and would spend whole days reading at the Central Library before finding a shelter. "I'm a product of the Library being open, having programs, and being welcoming," Hino said. "And now I'm giving back because of that experience."
It was important to Hino to find ways to make kids feel involved in a virtual Story Time. "I'm very interactive," Hino said. "I like to involve everybody and make them feel welcome, and I think that was the hardest part."
Running this program virtually for two years provided some important lessons, according to Pugh. In 2021, early learning content on the Library's youth YouTube channel was viewed more than 5,000 times. "Families desire multiple ways to access early learning programming," Pugh said. "And they learn information from events from trusted community people and other organizations they are connected to."
Hino hopes the future of World Language Story Time includes more programs and books in more languages and formats. "Immigrant communities need to feel belonging," she said. "When people are feeling connected, they give back, too. I'm a perfect example of that."
Donor support for World Language Story Time helped the Library provide more than 8,000 books, 6,000 animal and alphabet cards, and 16,000 Early Learning at Home booklets in nine languages in 2021.
Read more from the Foundation's 2021 Annual Report on Donor Impact.