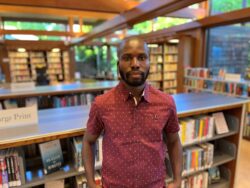 As demand for social connections surged among immigrant and refugee communities during the pandemic, the Library turned to a trusted partner organization, Literacy Source.
The donor-supported English Conversation Circle program helps non-native English speakers increase language skills and develop cultural competencies. It aims to build abilities that can help participants accomplish their goals, whether in job searches or other aspects of American life.
"There's definitely a big appetite for conversation," said Carissa Hastings, an instructor at Literacy Source, "especially in communities that were already isolated and have only become more isolated."
The Conversation Circle format gathers small groups of people to discuss a topic, ranging from travel and food to more serious issues like racial discrimination or cultural identity. Hastings said that the comfortable environment created by the students, staff, and volunteer instructors keeps people engaged. "The students are asking for these deeper topics because they feel safe," she said. "It's amazing to see them continually coming back, and sharing more, and sharing deeper."
The program has proven more popular than ever. Despite taking place virtually, attendance increased every quarter last year, reaching an average of 21 people per session. One evening slot drew twice as many virtual participants compared to the same in-person program before the pandemic.
The flexibility of hosting on Zoom allowed more students to access the program, Hastings said. Traditional participation barriers like transportation and childcare are eliminated. And people from all over the world can participate. Students invite family members from Colombia, Somalia, South Korea, and beyond. "They don't mind the time difference, they jump on anyway," Hastings said.
More than 200 people participated in Conversation Circles last year, representing 40 countries and at least 28 languages. "My favorite part was the opportunity to discuss different topics with people from all over the planet," said Wallace, a former Conversation Circle student from Brazil. "Those people provided me with a desire to visit, explore, and learn more about every single culture I've had contact with."
The experience was so meaningful for Wallace that he chose to volunteer soon after he developed English fluency. "I decided to volunteer because of my fear of communicating," he said. "The program team has guided me through roads that I haven't explored before, and because of them, I decided to do the same for others."
Volunteers like Wallace help run breakout rooms so students can get to know each other. Former students also help develop the programs and create activities and lessons that are engaging to foreign-born students. Wallace created several murder mystery games for his classes.
"On my day as a facilitator, I could see how the program really touches souls. No matter where you are from and your age, we are always open to learning through experiences," Wallace said. "I will remember that until my heart stops beating."
In 2021, 149 donors gave to the Foundation's Equity & Access Fund, raising more than $400,000 specifically to expand equitable programming. Add your name by contributing here.