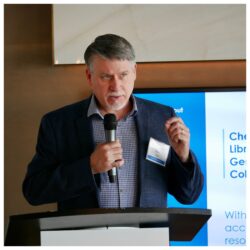 The Seattle Public Library is in a period of transition—both in how it operates in the aftermath of COVID-19, and under the leadership of a new Executive Director and Chief Librarian, Tom Fay.
Tom was unanimously selected by the SPL Board of Trustees in March, after serving as Interim Chief Librarian since April 2021. He previously served as Director of Library Programs since 2015.
We asked Tom a few questions about his perspective on library work and his vision for what's next:
How did you first get involved with libraries?
Growing up in a small rural community in Nevada, my local library was a constant in my life and I loved to read. About the time I turned 16, the town librarian asked me if I wanted to work in the library in the late afternoon and evening as a page.
I was working construction jobs and we were generally done by 2 p.m. due to the heat in the summers. So, I was pretty excited about a job with air conditioning. I spent more than 32 years in Nevada libraries, and retired from Las Vegas-Clark County Library as the Chief Operating Officer/Deputy Director.
What were your main objectives at the beginning of your tenure, and how have they progressed?
I first focused on moving the Library from constant pandemic-era crisis management to more normalized operations and pacing. This includes getting as many services and programs back up and running for our patrons as possible.
I have also focused on meeting and talking to many people as I introduce  myself to the community. I've dedicated the last three months to planning for our future work, including hiring a foresight consultant to work with the Library on identifying plausible and preferred futures for which we can plan and move towards.
What do you want Seattle residents to understand about the Library and how it's evolving?
Libraries are one of the most adaptive institutions due to the diversity and engagement of library patrons. The Library is always evolving with the needs of our patrons and our community because we listen and we adapt.
The foresight planning process we began this summer will ask our staff, our community, and our stakeholders to think of what libraries can and should be 10 years from now. Are we looking at more contactless, self-service kiosks? Will librarians harness the power of artificial intelligence to serve our patrons' information needs? Will libraries hold a space in the Metaverse and if so, how do we make sure there is equitable access to virtual reality technology and spaces? So many possibilities…
Are there any Library programs and services that you feel especially exemplify this evolution?
During the pandemic, you saw some evolution of the Library as a hybrid institution, providing program delivery both in-person and virtually. We have begun adding 24-hour lockers at branches so that patrons can access their materials at any time convenient for them. Our student tutoring solutions have expanded from providing in-person Homework Help at some branches to also providing Tutor.com, an online platform that provides real tutors online to help students in three languages.
As the Library's physical spaces reopen fully, what challenges and opportunities lie ahead?
It has been 25 years since the 1998 Libraries for All campaign that built up the system we enjoy today, with our world-renowned Central Library and 26 neighborhood libraries. We maintain our buildings well, but they were built for services and programs from nearly three decades ago.
We have seven historic Carnegie-era locations that are over a century in age. It is once again time to invest in our physical spaces to make them welcoming, inclusive, and relevant for those today and for future generations.
The challenge for such large-scale improvements comes down to funding. We must be more creative than ever in finding and leveraging funding sources that combine public and private investments into our physical spaces to ensure relevance and enjoyment for another generation of Seattle readers and learners.
What do public libraries mean to our society?
Libraries are the most democratic institution in our city and our society. We are one of the pillars of an informed electorate, and today, with the amount of misinformation present in our country, our work is more necessary than ever. We must continue to amplify new voices and new thought, and we must protect the freedom to read, think, develop, and pursue happiness. There will be challenges on all fronts to library collections and services, because accurate information and the development of knowledge strike fear in authoritarians and tyrants.
What's the best book you've read in the past year?
I really liked our Seattle Reads choice last year – "The Vanishing Half" by Brit Bennett. I found it an intriguing story and incredibly well-written. I think everyone will enjoy the 2022 Seattle Reads selection, "The House of Broken Angels" by Luis Alberto Urrea, as well.