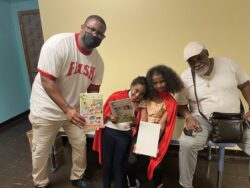 South End Stories, an anti-racist arts education program founded by Donte Felder and his team, including his father, Dr. Donald Felder, celebrates the importance of storytelling and playful learning. This is especially important for public school students who don't engage as well with traditional classroom instruction.
This year, they partnered with the Library to plan the donor-supported Summer of Learning, choosing a theme that reflects their mission: Superhero Summer.
Through months of planning, South End Stories and Library staff worked with local artists to create four heroes with superpowers relatable for young readers: helping their community, active listening, learning and sharing new perspectives, and using art to express emotions and solve problems.
Children could check out reading recommendations from each hero, pick up illustrated Superhero Summer action guides, and find book trackers and activity game boards at their local Library branch. And attendees of a pilot kickoff book fair at one summer school site received 10 free books to start or add to their home libraries, with a focus on authors of color and high interest books that are culturally relevant to the students.
"The kids were super excited," said Amy Twito, Informal Learning Program Manager at the Library and the staff lead for Summer of Learning. "One student exclaimed, 'Wow! This is the best day ever!' as he picked out his 10 books."
That sense of enthusiasm is why South End Stories centers superhero themes in much of its curriculum. Donte, a longtime educator at Orca K-8 School, remembers walking to the Columbia Branch as a child to pick out piles of novels and comic books. "These big superhero ideas—'with great power comes great responsibility'—really helped define me as a man and as a teacher," he said.
Dr. Felder saw the impact of empowering narratives in his career with Seattle Public Schools and Casey Family Programs, where he focused on improving education for children involved in corrections and the foster care system.
"Arts integrated with great teaching produces better outcomes," he observed. "Superheroes help uplift what children think of themselves. When they enter a classroom, they start with a belief that I belong and not why am I here."
South End Stories has consistently found that connecting lessons to pop cultural phenomena like superheroes captures the attention of students who don't usually have an affinity for reading, Donte said. This outcome advances the Seattle Public Schools goal to improve literacy among Black elementary school students and fits well with the Library's goals for equity based programming.
"South End Stories has been a wonderful planning partner for the Summer of Learning program due to their focus on racial equity and social emotional learning, and their commitment to arts education," said Twito.
And the Felders hope that the collaboration continues to grow, bringing more art—and the students it inspires—into classrooms and Library branches. As Dr. Felder said, "We have a great opportunity to spearhead not just a Summer of Learning, but learning all year, in partnership with the Library."