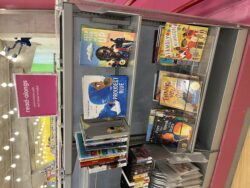 Reading aloud is key for early literacy. Studies show that seeing and hearing words simultaneously improves vocabulary and reading rates. This is especially important for children with disabilities, English-language learners, and others with barriers to reading.
"Read-Alongs" are MP3-enabled picture books that read aloud at the push of a button. And thanks to donor support, hundreds are now available at Library branches to help more kids listen as they read (pictured at left at the Central Library).
The new Read-Along books have built-in equipment that doesn't require CDs, computers, or even internet access. Readers press play inside the book to start an audio recording as they go through the text. Some are also equipped with "learning mode," an option to hear questions about the book when they're done reading to build comprehension skills.
It's a great example of how donor support drives innovative new ways to add diverse titles, engage young readers, and expand literacy. The Foundation was grateful to provide flexible grant funding to the Library during the pandemic to pilot this new format.
And the Library hopes to build on its Read-Along success in 2023. A proposed expansion would add 400 more books in English as well as 300 bilingual Spanish and 300 bilingual Chinese Read-Alongs, the two highest-used world languages for children's materials.
We need your continued support to increase the Read-Along collection and provide more young readers, particularly those facing barriers to literacy, with a new way to read aloud. Check out the Read-Along titles currently available in the Library catalog, and help us add 1,000 more next year with a donation today!