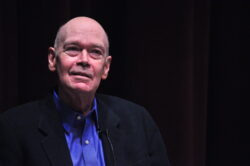 The Seattle Public Library Foundation joins the literary community, locally and internationally, in mourning the loss of Jonathan Raban.
Jonathan was an acclaimed travel writer and novelist, and an iconic Seattleite. He was awarded the National Book Critics Circle Award for nonfiction, the Governor's Award of the State of Washington, and The Stranger Genius Award in literature, among many other honors. In addition, Jonathan was a great supporter of the Library. He served as an essay judge for the Foundation's Stim Bullitt Civic Courage Scholarship for nearly a decade.
"Jonathan deeply valued the role of writing in our community and was a committed champion of young writers applying for the scholarship," said Foundation CEO Jonna Ward. "When he saw a spark of talent, he would move mountains to help. We are truly grateful for his contributions to our city as a writer and as an ambassador for literacy."
He is survived by his daughter Julia. His memoir, "Father and Son," will be published later this year. Read more about Jonathan's life and career in The Seattle Times.