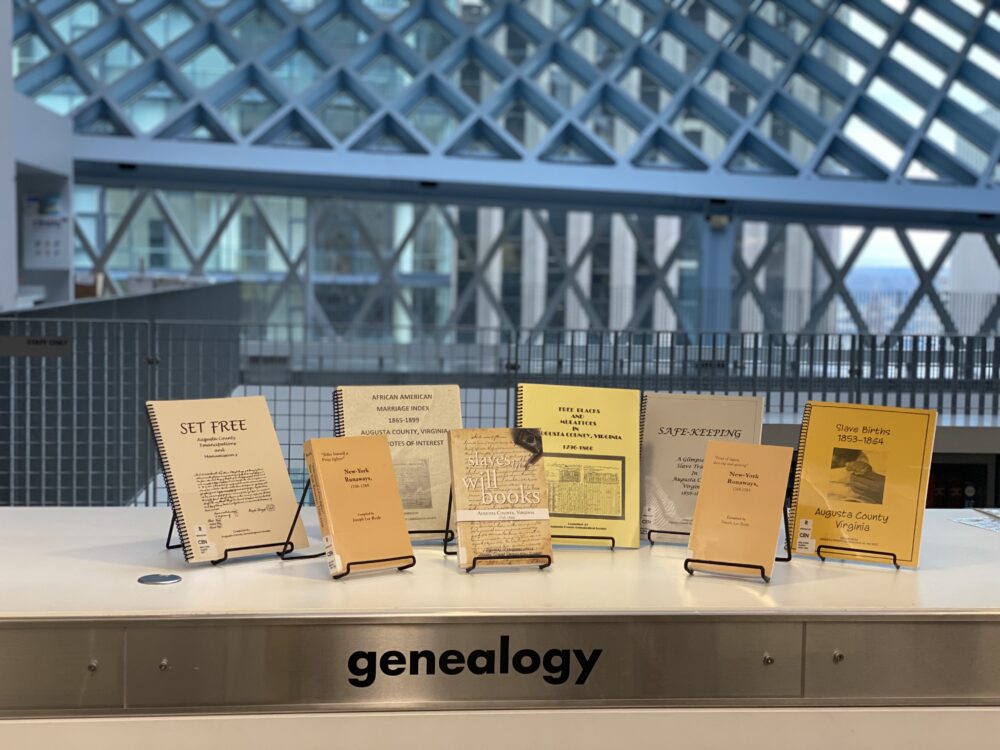 The Genealogy Collection of The Seattle Public Library aims to provide patrons with access to resources that expand their knowledge of their family history. These resources are increasingly available at the Library for BIPOC (Black, Indigenous, and People of Color) communities thanks to the dedicated efforts of genealogy librarians.
In 2022, Foundation support helped add new records on African American history to the collection. These include indexes of marriages, voter registrations, military service, emancipations, and more information about free-born residents and freedmen in Virginia. Past issues of The Baltimore Sun, focused on African American news in the 19th and early 20th centuries, are now available as well.
According to genealogy librarian Mahina Oshie, the Library has faced challenges acquiring the depth of records for BIPOC communities that are available for communities with European heritage. Traditionally, the collection has relied on donations of books from individuals and historical societies.
The addition of an annual budget for the collection to directly purchase materials, supported by the Foundation and special gift funds, has enabled genealogy librarians to seek out more diverse materials.
"We look for materials that we can use to support researching free people of color ancestors, formerly enslaved ancestors, and their enslavers," said Oshie. This requires scouring announcements from genealogical societies, tracking new publications, and soliciting recommendations from patrons and genealogists.
For example, another 2022 addition were social histories from the University of Hawai'i reflecting the culture of Native Hawaiians as well as African Americans, Filipinos, Koreans, and other immigrants. While these titles are not nominally considered works of genealogy, said Oshie, the expanded scope of the collection allows for a wider range of enriching resources for patrons.
Learn more about the Genealogy Collection, including how to research records online or make an appointment with a genealogy librarian, here. Watch our video interview with genealogy librarians Mahina Oshie and John LaMont below: