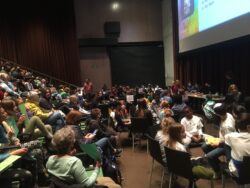 Seventy-two schools. Nine semi-final showdowns. And it all culminated with madness in March at the Central Library, for the return of the Global Reading Challenge City Finals!
The longtime program, supported by Foundation donors, provides more than 8,000 books for fourth- and fifth-graders at Seattle Public Schools, who form trivia teams and compete using their reading knowledge. This month, busloads of students have arrived at the Central Library for action-packed semi-final challenges, with families, teachers, and librarians enjoying the program's first in-person competitions in three years.
"We celebrate reading as an achievement, the way we celebrate sports," said Jenny Craig, the Global Reading Challenge librarian at The Seattle Public Library. "We facilitate teamwork across grades and strengthen school traditions."
Teams choose their own nicknames – from the Knowledgeable Narwhals to the Teeny Tiny Timothys – and have been filling the auditorium at the Central Library with colorful signs and cheering supporters. The students are "remembering to keep fun front-and-center" at each event, Craig said.
Librarians selected this year's books to be of high interest to young readers, especially those who may not have as much experience reading or easy access to books at homes. The selection centers authors who write about their own lived experiences and feature characters of color, LGBTQ+ characters, and characters with diverse abilities.
Books are also made available in a variety of formats, including as audiobooks, e-books, and in languages other than English. Extra resources, including more books for home libraries, classroom book group support, and field trips, are provided for Title 1 schools.
The program also serves as an introduction for elementary school students to the resources and values of their public library, Craig said. A highlight of this year has been teams exploring the Central Library, sometimes for the first time, after their semi-finals.
The Dewey Decimal Dragonflies from Thornton Creek Elementary took home the top prize at the final on March 21. But there were already thousands of winners – and thousands more beloved books – across the city.
Thank you to Northwest Literacy Foundation, Rotary Club of Ballard, and many other generous individuals who support the Global Reading Challenge.