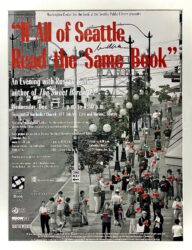 Stories bring us together. For the past 25 years, The Seattle Public Library has played a leading role in connecting people with the Seattle Reads program.
Started in 1998 under the concept "if all of Seattle read the same book," the donor-supported program now unites more than 9,000 people annually. Seattle's "one city, one book" concept has now spread to more than 400 other libraries around the world.
This week, Seattle Reads celebrates its 25th anniversary by welcoming back author Julie Otsuka. Otsuka's novel "When the Emperor Was Divine" was the Seattle Reads selection in 2005, and she returns this year to discuss "The Swimmers" on May 19 and 20, at library and community locations around the city.
"When we were searching for the right book for Seattle Reads' 25th anniversary, Julie Otsuka's 'The Swimmers' stood out as a multilayered, lyrical, and deeply moving novel that readers from different generations and backgrounds will relate to and be excited to discuss," said Stesha Brandon, Literature & Humanities program manager at the library.
Community engagement is a central part of Seattle Reads – not just reading together, but sharing the experience through discussions with the author and other readers. Forms of engagement have varied based on the book. This year, "The Swimmers" provides unvarnished insights around the topic of memory loss.
Last week, the library hosted a book discussion at The Memory Hub, a dementia-focused programs and events venue where the library helps provide resources for families. Community partners Densho, Frye Art Museum Creative Aging Programs, and UW Memory and Brain Wellness Center took part in this year's programming.
Otsuka will appear at two senior centers during her time in Seattle, offering a chance for people to connect directly with the author. She will be at the Southeast Seattle Senior Center on May 19, before her public discussion that same evening at the Central Library. On May 20, Otsuka will speak at the Greenwood Senior Center, following an appearance at the Lake City Branch (see the full program calendar here).
The engagement events are fitting way to demonstrate the power of storytelling throughout ourd community, and why Seattle Reads is beloved in our city and emulated around the world. The Foundation is proud to have supported Seattle Reads since its inception. Our gratitude extends to The Wallace Foundation, The Gary & Connie Kunis Foundation, The Seattle Times, and Anchor Books – the bookselling partner for this year's events.
Learn more about the past 25 years of Seattle Reads on SPL.org or in the exhibit on Level 8 at the Central Library, on display until June 26.
Seattle Reads books by year:
2023: "The Swimmers" by Julie Otsuka
2022: "The House of Broken Angels" by Luis Alberto Urrea
2021: "The Vanishing Half" by Brit Bennett
2020: "There There" by Tommy Orange
2019: "The Best We Could Do" by Thi Bui
2018: "Homegoing" by Yaa Gyasi
2017: "The Turner House" by Angela Flournoy
2016: "We Are All Completely Beside Ourselves" by Karen Joy Fowler
2015: "The Painter" by Peter Heller
2014: "For All of Us, One Today: An Inaugural Poet's Journey" by Richard Blanco
2013: "Stories for Boys" by Gregory Martin
2012: "The Submission" by Amy Waldman
2011: "Little Bee" by Chris Cleave
2010: "Secret Son" by Laila Lalami
2009: "My Jim" by Nancy Rawles
2008: "The Beautiful Things That Heaven Bears" by Dinaw Mengestu
2007: "The Namesake" by Jhumpa Lahiri
2006: "Persepolis" by Marjane Satrapi
2005: "When the Emperor Was Divine" by Julie Otsuka
2004: Seattle Reads Isabel Allende (series featured seven titles from Allende's body of work)
2003: "A Gesture Life" by Chang-rae Lee
2002: "Wild Life" by Molly Gloss
2001: "Fooling With Words: A Celebration of Poets and Their Craft" by Bill Moyers
1999: "A Lesson Before Dying" by Ernest Gaines
1998: "The Sweet Hereafter" by Russell Banks