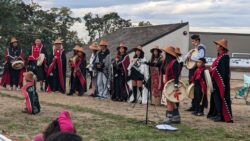 Our 2022 Annual Report on Donor Impact details the ways that the library drives storytelling in our community – through reading, programming, and elevating voices.
These stories improve literacy, enrich lives, and represent diverse perspectives. More people have more opportunities to learn, and to express their own stories and hear from others, thanks to these donor-supported library projects:
Centering Indigenous stories
Storytelling and dancing are central components of Native culture and education. But they aren't always thought of as essential for early literacy. For the second year in a row, the library helped host a public event to spotlight Indigenous stories and traditions for children. Co-designed with Daybreak Star Preschool, the event encouraged families to share personal, family, and cultural stories with confidence and power.
Experiencing stories and dances from Native artists and elders was new for some, and a chance for others to see their culture on a public platform. More than 70 people attended, uniting neighbors from the preschool and the Magnolia area. "This was a great way for healing with our community," said one attendee. "It's critical to have this space."

Pictured above: Storyteller Sondra Segundo (Haida and Katzie First Nations) and the Raven Clan Singers and Dancers (Haida Roots) performed at Daybreak Star. (Photo courtesy of Mai Takahashi)
Helping an industry diversify
Writers and entrepreneurs of color are not equitably represented in the publishing industry. The Business of Books, a new series of workshops at the library, aimed to address that disparity.
The series inspires budding BIPOC (Black, Indigenous, and People of Color) authors and publishers. Sessions at the Beacon Hill, Columbia, and Douglass-Truth branches highlighted how to find financing for a book or start a publishing business. Local book industry leaders held deep-dive roundtables with participants. More than 50 attendees came away with new insights into spreading the stories from their communities.
"It was powerful to see folks together sharing their knowledge to help other people," said Stesha Brandon, the library's Literature & Humanities program manager. "It truly felt like a family in the room."
Engaging all readers
Since 1998, the Seattle Reads program has brought our city together around the same story. In 2022, readers shared the experience across languages as well.
More than 9,000 read or joined events around "The House of Broken Angels" / "La casa de los ángeles rotos" by Luis Alberto Urrea. The author appeared at public events in English at the Central Library and Lake City Branch, and in Spanish at Centilia Cultural Center. Books were widely available in both languages at the library.
Local Latinx arts group La Sala helped select the book. Other partners, such as Seattle Escribe and El Centro de la Raza, found fun ways to engage the community through youth programs and book groups.
The story brought together a cross-section of readers, who could see themselves represented or be exposed to new ideas. And it proved popular in many forms: "The House of Broken Angels" was the library's most checked-out digital novel of the year.

Building teen readers
Librarians promote storytelling in many ways, beyond recommending books to patrons. When community members identify ways the library can help them access stories, librarians jump into action.
Teen Services librarians recently responded to community requests to start youth book clubs. ROOTS Young Adult Shelter let staff at the University Branch know that some of the books their guests wanted were often checked out. East African Community Services reached out to staff at the Beacon Hill Branch about a book club for middle and high school students.
Foundation resources allowed the library to provide several titles for both partner organizations. Now young people have permanent access to the books they want to read and discuss.
And sharing stories with each other has had other benefits. Some youth got to experience playing the role of librarian for their community. "This has given several of our guests a sense of purpose as their book choices make it into the hands of their peers," ROOTS reported. 

Your gift to the Foundation provides thousands of books and endless experiences for Seattle students, older adults, and residents of all ages. Give today to help spread storytelling for all.