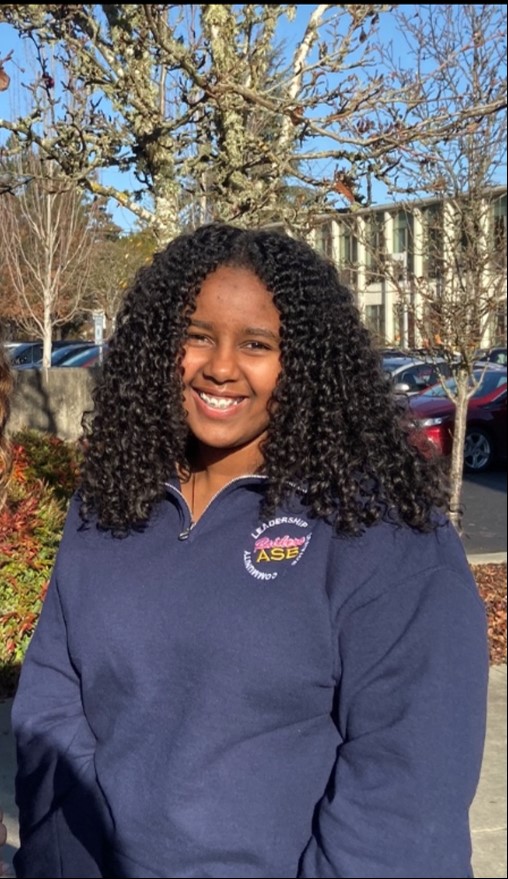 Success was not handed to 17-year-old Deborah Tesfay and her family.
After immigrating to the Seattle from Eritrea when she was 9 years old, Deborah stayed in a homeless shelter with her mother and two siblings, separated from her father because men weren't allowed.
"We had to start from the bottom," Deborah says. "Starting from the bottom was a very hard time for my family."
But they persevered. They made a life for themselves in Seattle.
Inspired by a public figure who also overcame adversity to achieve success, Deborah won $5,000 scholarship from The Seattle Public Library Foundation's Stim Bullitt Civic Courage essay contest with her essay on Washington's Lt. Gov. Cyrus Habib. Having graduated this month from Nathan Hale High School, she plans to attend the University of Washington in the fall.
The Stim Bullitt scholarship challenges local high school and college students to write about a Washington state resident who displayed courage and made a difference in fighting for issues they cared about. The Foundation splits $10,000 between a winning essayist and two runners-up.
Her winning subject, Habib, is a blind Iranian-American Ivy League alumnus who was a rising star on the state's political stage, but announced this year that he plans to leave office at the end of his term to join the Society of Jesuits.
In her essay, Deborah focused not on his plans, but his lifelong history of tenaciously fighting for others.
"He really caught my eye because my passion is to help people – especially minorities in my community who need the support they need to succeed," Deborah says. "He inspired me to push for that passion and keep striving to get to that place."
As Deborah points out, Habib survived cancer three times – he lost his eyesight at age 8 due to cancer – and went to school at Columbia University, Oxford, and Yale University. As a state lawmaker and lieutenant governor, he advocated for public school funding, civil rights, and paid sick leave for workers.
"He never gave up and he kept on striving," Deborah says.
Influenced by her own beginnings in America and the strength displayed by Habib, Deborah hopes to help youth in her community.
She plans to earn a degree in social work and explore that field for a few years before going to law school to become a juvenile attorney. She hopes to help reduce incarceration of Black teenagers.
"I want to help any way I can through my career," she says.
Deborah's neighborhood Seattle Public Library location is the Lake City Branch, where she grew close with Librarian Nancy Garrett and completed her homework after school.
"The Library was just like a home for me," Deborah says. "I think it gave me a lot of opportunity."
Congratulations, Deborah!
To learn more about Deborah and Cyrus Habib, read her winning essay here. Also check out the runner-up essays by Evelyn Chen and Della Floyd. Their essays will be catalogued in The Seattle Public Library's Special Collections.
Learn more here about the Stim Bullitt Civic Courage Scholarship. The 2021 contest will open in January.