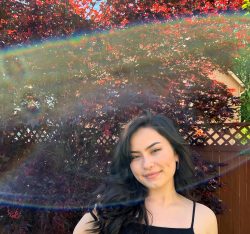 Having spent childhood summers with her grandparents in Haines, Alaska, among the Tlingit Indian Tribe, Julianna Folta grew up with an appreciation for indigenous cultures.
So when she learned about indigenous rights activist Deborah Parker while searching for inspiration for the Stim Bullitt Civic Courage Scholarship contest, she knew the Tulalip leader was the ideal figure for her to explore.
"It just felt like it clicked," says Julianna, an 18-year-old junior at Cascadia College in Bothell. "It felt like the best person to write about, the person I most connected to."
Julianna's essay on Deborah "Tsi-Cy-Altsa" Parker earned her the first-place prize in the Foundation's eighth-annual scholarship contest, winning $5,000 toward college tuition.
"She came from a background that was very humble and often beats down people from being able to rise up because of cycles of violence and abuse and systemic oppression," Julianna says of Parker.
As a policy analyst for the Tulalip Tribes of Washington, Parker took a particular interest in advocating for tribes' rights to exercise criminal jurisdiction on their reservations; previously, non-native people accused of committing crimes on native land could not be prosecuted.
Her time on the national stage arrived just ahead of the 2013 re-authorization of the federal Violence Against Women Act, which was slated to include additional reforms, such as special protections for LGBTQ and immigrant survivors.
But indigenous women were left out.
A meeting with U.S. Sen. Patty Murray in Washington, D.C. led to Parker becoming the face of the reform effort for Native American women. And, despite having never gone public with the violence she experienced, she told her story to the nation – which led to protections for indigenous women being included in the newly reauthorized law.
"Her strength and ability to fight and actively working towards promoting her community was really inspiring to me, as well as the fact that she took so many personal risks," Julianna adds. "It just takes one person to speak up and evoke community action. It makes you feel less alone."
Julianna grew up in Guam and Saipan before moving to the Seattle area as a teenager, where she attended Inglemoor High School in Kenmore. Running Start classes allowed her to earn enough college credit to enter Cascadia College as a junior.
She aims to earn a Bachelor of Applied Science in Sustainable Practices. She is passionate about fostering sustainable and equitable food production and improving access to healthy food in low-income communities.
Writing about Parker allowed Julianna to learn about the inspiring and transformative figures around us, she says.
"I hope it inspires people to take a deeper look at the figures surrounding the area and the impact happening around the community," Julianna says. "And it also makes you take a look at the injustices happening around us."
Read Julianna's essay about Deborah Parker.
Learn more about the Stim Bullitt Civic Courage Scholarship and the two runners-up.