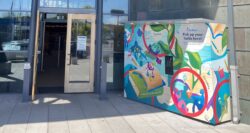 Our 2022 Annual Report on Donor Impact examines how the library is providing free access to trusted information – for everyone, and from everywhere.
When knowledge is more available and equitable, whether at a branch or through innovative outreach and technology, more people are able to gain the skills, insights, and experiences that help them thrive.
Modernizing the collection
The library must always keep up as reading habits and patron needs change. Donor support helps add more than 75,000 books to the library's collection every year. But the format, focus, and features of the books continue to evolve.
In 2022, Collection Services reallocated some funding from print books to digital audiobooks. This reflected feedback from teens and adults about preferred ways of accessing materials. The pandemic-era trend toward increased borrowing of e-books has continued as well.
The library established collections in new languages, including Dari, Pashto, and Ukrainian. An emphasis on equity led to more acquisitions of titles for traditionally underserved audiences. An ongoing audit process identifies which voices are not adequately represented.
And new technology provides new opportunities to use and access the collection. The library introduced Read-Along books, MP3-enabled picture books that read aloud to children. Pickup lockers are now available at five branches, enabling checkouts 24 hours a day.
Foundation donor Linda Cheung uses the pickup locker at the Rainier Beach Branch every few weeks. "What a great service!" she said. "I don't have to worry about library hours, and it's much easier to borrow from all the other branches."
Pictured above: Pickup lockers at Beacon Hill and four other branches allow access to library materials at any time of day. (Photo by Will Livesley-O'Neill)
Understanding memory loss
Library resources are increasingly available throughout the community. That includes places like The Memory Hub on First Hill, where families dealing with dementia have a centralized place for information.
"The library has been making an effort to reach community where they are," said Emily Billow, the library's Older Adults Program manager. She heard that visitors to The Memory Hub wanted to read more about experiences with memory loss.
Families faced with dementia often have to track down services and guidance from many places. They wanted books for when they were already  on site, to take a class, drop off a loved one, or volunteer.
Funding for older adult programming helped provide a wide variety of books. Materials now range from children's books to guides for caregivers, in English and Spanish. The Memory Hub now has the largest collection of books about dementia in the state of Washington.
Increasing digital literacy
Access to technology is only one step to accessing information. Some residents at Seattle Housing Authority (SHA) sites received new laptops through a grant. But they wanted instruction on how to use digital tools to increase their knowledge and skills.
The library was a natural partner. Through the Foundation-supported Job and Life Skills program, the library provided instructors and lesson plans on basic computer and internet use for SHA residents. Since the majority of students were immigrants and refugees, all instructors spoke second languages including Oromo, Somali, and Tigrinya.
"It was clear that this program had a strong impact on their confidence in being able to use their new device, even something as simple as knowing how to move an icon on their desktop," said Jennifer Yeung, public instruction and workforce development lead at the library.
As a result of this program, SHA now offers digital literacy skills classes for more residents modeled after the library.
Your gift to the Foundation increases resources at the library, online, and through hundreds of local partner organizations. Give today to continue expanding access to the books and programs our neighbors need.