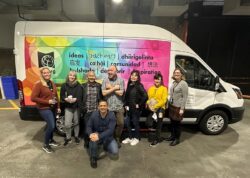 On a recent rainy day, members of the SPL and Foundation Boards toured an unassuming building in Georgetown that is essential to our library. What they saw, and the people they met, amazed them.
The group was touring The Seattle Public Library's Maintenance and Operations Center (MOC), which opened last year, and is home to several key functions including the Bookmobile fleet and a brand-new automated materials handling system.
"I always learn from an in-person visit with library staff," said Foundation Board member Ellen Look. "What an incredibly dedicated and knowledgeable group! They truly care about the patrons they serve."
The tour included a look at the Mobile Services unit, partially supported by Foundation donors. Their Bookmobiles, including a newly purchased electric truck, bring around 60,000 books per year to preschools, older adult residences, tiny house villages, and the homes of people with disabilities.
This circulation, the equivalent of a small library branch, helps ensure access to information for those who might not be able to visit the library easily. The unit places a heavy focus on equity, reaching the people and places where a visit will have the most impact.
"Our focus with this service is on having a positive first experience with the library, and a positive first experience with books," said Robin Rousu, assistant managing librarian with Mobile Services, about the outreach to young students. One of the Bookmobiles, known as the "walk-on" as it houses a small library which children can go inside, exclusively visits preschools and childcare centers.
Rousu's team makes the same stops each month, checking out books for children to keep in their classrooms until the next visit. They work with teachers to tailor the collection to the curriculum themes, spoken languages, and structured learning of each classroom.
The goal, Rousu said, is to help students learn about the library and make them comfortable and excited about books as they learn to read. This past year, they served more than 1,100 preschoolers primarily in lower-income communities.
The electric truck provides "lobby service," or delivery of books on carts, to senior centers, retirement and nursing homes, and assisted living or family home facilities. The residents served are often avid readers who are no longer able to visit their library in person.
"We see people who are predominantly very excited to see us," said librarian Carrie Fox.
Patrons of this Bookmobile can place holds which staff then bring on the next monthly visit, and often make personal requests for titles or genres for librarians to provide. The truck also provides tablets and Wi-Fi hotspots to some facilities, which are often needed for older adults without regular access to the internet. The rising use of e-books and streaming media, as opposed to physical books and DVDs, also makes the tablets and hotspots critical to using the library, Fox said.
Another small van is dedicated to home service, providing deliveries directly, and the Books by Mail program, via prepaid postal envelopes to patrons at private homes. Combined, the lobby and home services reached 185 facilities and residences in the past year, including monthly return visits.
MOC also runs the automated materials handling system, the massive machinery that sorts books, CDs, DVDs, and more. Trucks begin rolling in and out of Georgetown at 3 am each day to circulate all new materials, returns, and holds through all 27 library locations across the city.
With just a few staff members, four vehicles, and a lot of passion, the team in Georgetown makes sure our library system works beyond the walls of the branches and provides books to every corner of Seattle.
For the past decade, a bequest from a generous donor has helped increase Bookmobile services across Seattle. As of this year, that donation has been fully spent. The Foundation is committed to continuing our support for this important program in 2024 and beyond, and we appreciate all gifts to help! If you are interested in learning how you can make a transformational bequest for programs, please contact Kara McDonald at kara [at] supportspl [dot] org.