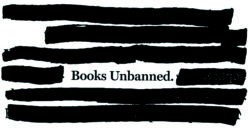 The Foundation is proud to fund the Books Unbanned program at The Seattle Public Library. In April 2023, SPL joined Brooklyn Public Library in offering teens and young adults across the nation free access to the books in its digital collections. Boston, LA County, and San Diego have now joined the movement as well!
The Books Unbanned e-card is privately supported through donations to the Foundation's Equity & Access Fund. Give today!
Read our full announcement of the Books Unbanned initiative.
Why is this program necessary?
Books Unbanned counters the increasing attempts to censor what young people read. The vast majority of recent bans target books by or about people of color and LGBTQ+ people.
Who can get an e-card?
Anyone between the ages of 13 to 26, living anywhere in the United States (outside of King County, WA), can fill out an application here.
What can readers access?
All e-books and audiobooks in the library's collections are available to Books Unbanned cardholders, who can check out up to 10 digital books at a time.
How is the program funded?
Books Unbanned is entirely funded through the Foundation's Equity & Access Fund – not by public resources.
How many people have signed up?
As of November 2023, more than 6,000 young readers have signed up, from all 50 states and all U.S. territories. New cardholders have checked out more than 27,000 titles more than 55,000 times.
Read our newsletter story on the impact of Books Unbanned so far.