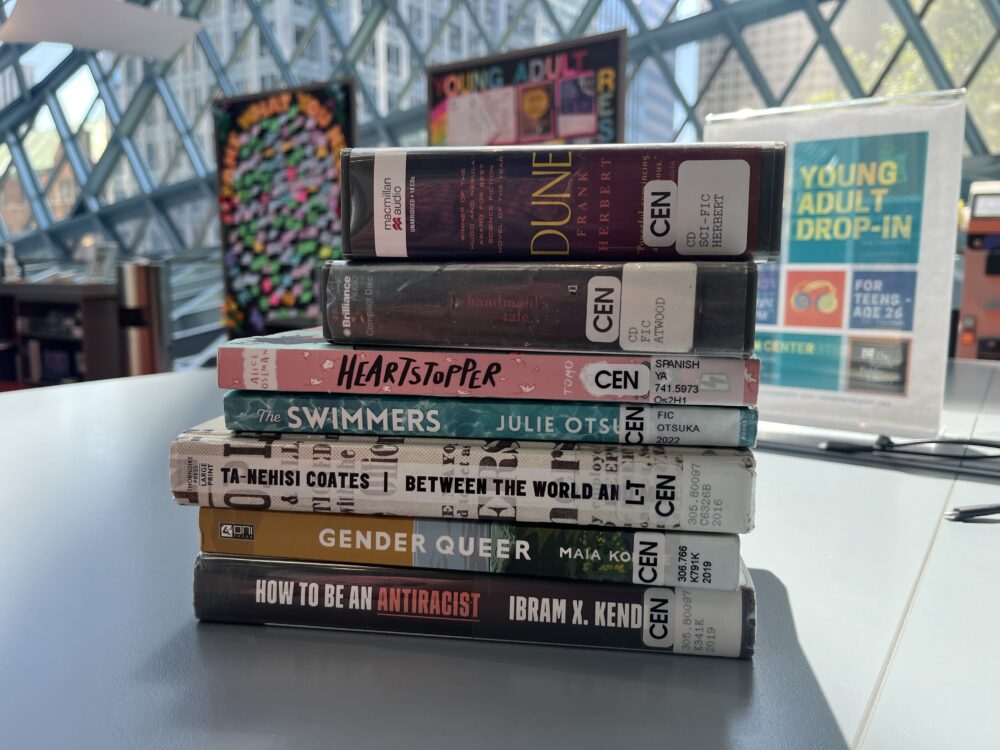 "A group of parents are trying to remove certain 'problematic' books from my high school's English curriculum," wrote one 17-year-old from Michigan. "I want to be able to read these books and others, but I can't always afford to buy them."
Equitable access to knowledge is an essential value of our library — and our democracy. The growing and increasing coordinated national movement to censor what children and young adults read presents an unprecedented threat to free access to information and ideas.
The American Library Association reported a record number of demands to censor library materials in 2022. More than 2,500 unique titles were targeted for censorship, a 38% increase from the previous year. The vast majority of challenged books were written by or about members of the LGBTQ+ community and people of color (POC). "Florida is banning so many books right now, and access to books by queer and POC authors is so important, especially to young people," wrote a 23-year-old in that state.
These comments — and hundreds of others like them — come from responses to The Seattle Public Library's Books Unbanned initiative, launched at the end of April with private funding from the Foundation. SPL joined Brooklyn Public Library, which started Books Unbanned in 2022, to offer young people ages 13 to 26 across the nation a digital card that provides free access to the library's e-book and e-audiobook collections.
Books Unbanned protects intellectual freedom at a time when it is being attacked and eroded. And the enthusiastic responses show how necessary the program is. In the first three months after SPL joined, more than 3,600 young people signed up for an e-card, from all 50 states and Puerto Rico. New cardholders checked out more than 13,000 titles more than 22,000 times.
The books represent the diverse range of interests among young readers. One of the most popular banned books checked out by new cardholders is Margaret Atwood's "The Handmaid's Tale." But other popular choices include the fantasy novel "Fourth Wing" by Rebecca Yarros or this year's Seattle Reads selection, "The Swimmers" by Julie Otsuka.
The ability to read what you want and explore the world through books is a fundamental value of libraries, said SPL Chief Librarian Tom Fay. "Access to the library is about much more than censorship — it's how you learn about new concepts," Fay said. "If certain topics are banned, knowledge about those concepts is threatened. And the lack of knowledge is what creates ignorance, fear, and hate."
Seattle was able to take this bold step to defend knowledge due to strong support from our community. Books Unbanned is funded by Foundation donors, with hundreds of people giving through the Equity & Access Fund to ensure the library can keep up with increased demand for e-books while protecting public resources.
Donors understand the urgency of the Books Unbanned project. "Freedom and democracy start with freedom of thought," wrote one supporter. "Knowledge is power."
More public libraries around the country are considering joining the Books Unbanned movement. And more young people continue to sign up to access our library's extensive collection — and become inspired by what they find there — thanks to our community's support.
"Libraries are banding together," Fay said. "We're going to do whatever we can to make sure young people stay involved. We know that this is such a critical time in their lives — if you get interested in politics and civics at age 16 or 18, you're much more likely to remain engaged in your society and democracy."
Or, as a 17-year-old signing up for Books Unbanned from North Carolina put it, "This card gives me permission to use my free time to learn and think rather than scrolling through my phone. I want to actively engage with the world and new ideas."
The Foundation's Equity & Access Fund supports programs that reduce barriers caused by systemic racism, poverty, language access, and other factors — including censorship. In addition to Books Unbanned, the fund helps the library increase participation from traditionally underserved communities, expand access to services and materials, and promote learning.

Your gift to the Equity & Access Fund allows the Foundation to invest in improving equity across our community and beyond. Programs include support for immigrant and refugee communities, outreach to people experiencing homelessness, and promoting diversity and representation in reading — for SPL patrons and for young people nationwide. Give today!