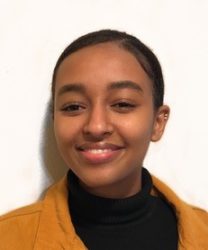 When reflecting on what civic courage means to her, it came naturally for Ruth Tedla to think of the Botswanan philosophy of Botho: "I am because you are."
Born in Ethiopia and raised in Botswana before moving to Shoreline two years ago, Ruth incorporated this spirit of interconnectivity and community into her winning essay for the Stim Bullitt Civic Courage Scholarship contest, earning $5,000 toward her tuition at George Washington University in Washington, D.C., where she will begin as a freshman this fall.
And the figures who embodied that spirit to her: the "Gang of Four," a group of diverse leaders – Bob Santos, Roberto Maestas, Bernie Whitebear, and Larry Gossett – who individually advocated for marginalized people of color in Seattle during the second half of the twentieth century and united their efforts for maximum effect.
The Stim Bullitt Civic Courage Scholarship prompts local students to research and write about Washingtonians standing up for their beliefs against popular wisdom, awarding three prizes each year to honor the memory of the late Library supporter and activist Stimson Bullitt.
A panel of distinguished historians and authors selected Ruth's essay as the winner.
The Shorewood High School graduate consulted her U.S. history teacher, Sarah McFarlane, about whom to feature in her essay. When Ruth learned about the Gang of Four, they resonated with her, because "four different men from four different backgrounds … shared a bond that transcended their differences," she says.
"Individually, the men took on different battles in their community, but came together and realized their pain is shared," Ruth continues. "They were more than just an alliance, they were brothers. Their passion for activism grew into a lifelong friendship."
The faith she learned in Ethiopia and the community-minded ethos that nurtured her in Botswana has fostered in Ruth a pride in her heritage and a passion for social justice.
She plans to study international affairs at George Washington University before going to law school.
Ruth has already attended workshops and earned fellowships emphasizing the teachings of Martin Luther King, Jr., and attended summer conferences led by ACLU.
She also enjoys photography and movies.
Congratulations, Ruth!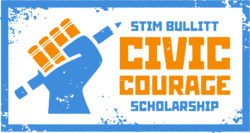 Find her winning essay here, as well as the runner-up essays by Kristin Hong and Alex Huynh. Winning essays are catalogued in The Seattle Public Library's Special Collections.
Stay tuned for details about the 2020 contest. Meanwhile, learn more here.