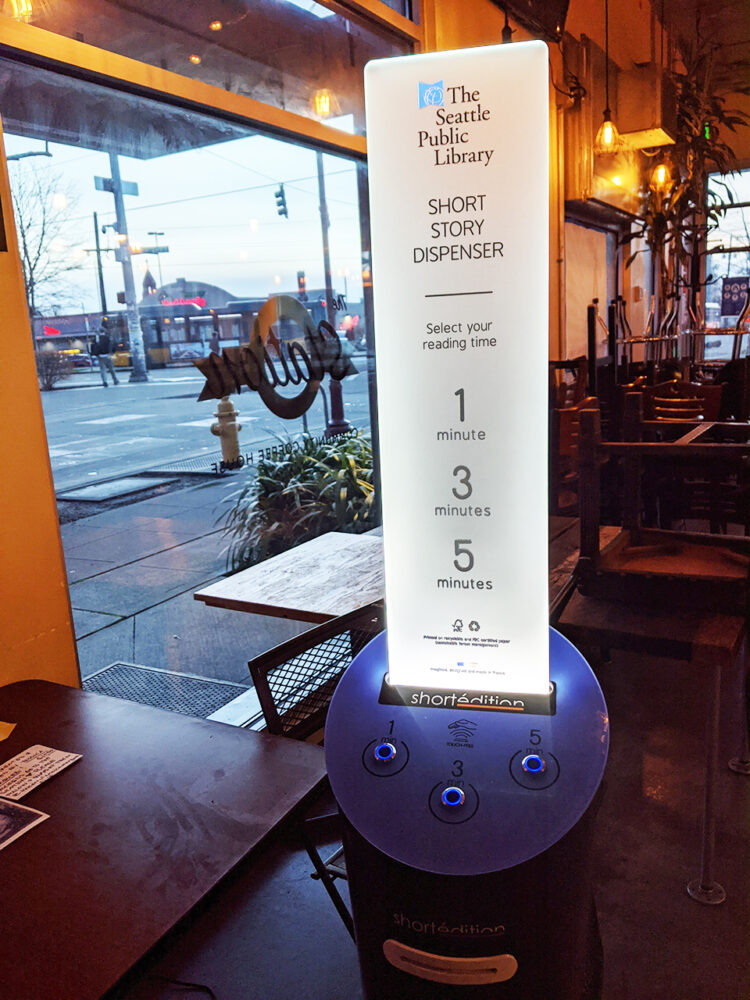 Customers of The Station coffee shop on Beacon Hill can now grab a free story to read with their cup of joe.
The Seattle Public Library's first short-story dispenser, produced by French publishing company Short Édition and supported by donors to the Foundation, was installed at the café near the Beacon Hill light rail station in December.
Users can choose between a 1-minute, 3-minute, or 5-minute story by waving their hands over the buttons, producing a free story on eco-friendly BPA-free paper in a contact-free experience.
"As a beloved community space in the heart of Beacon Hill, The Station is the perfect location to test-drive this new way of connecting people to literature," says Andrew Harbison, the Library's assistant director of Collections and Access. "We hope that it will introduce an element of surprise and delight in Seattle residents' days during this difficult time and remind them of the Library's role in bringing literature to the community."
The Library aims to move the short-story dispenser to different locations throughout the city over time in areas where a bit of literature can inspire and entertain. More than 300 machines are installed throughout the world in places such as airports, train stations, and museums. The one at The Station is the first in Washington state.
"We are excited to share stories with our community," says Luis Rodriguez, co-owner of The Station. "Every human has a story, my community is my book, and every day is a new chapter. We are all a poem in the making."
The Station is a well-known community hub in the heart of North Beacon Hill, at 1600 S. Roberto Maestas Festival St., near El Centro de la Raza and right off popular bus and light rail stops.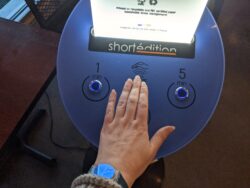 The kiosk now generates contemporary and classic adult fiction, but the Library may change or add genres to fit its various locations. Writers can also submit their own stories for consideration at Short Édition.
"At a time when we are more isolated, finding stories and creative expression in unexpected places can help connect us," says Jonna Ward, CEO of the Foundation.
The short-story dispenser isn't the only way Library lovers can find literary delight on demand – anyone can find new stories by calling the Library's Lit Line, which launched last summer, or seek new book recommendations with Your Next 5 Books.