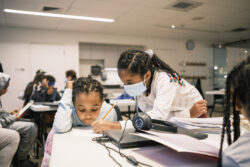 The Lake City Branch was full of students of all ages on a rainy Tuesday evening. Homework Help, the donor-supported afterschool program, was back in-person.
Tim, a longtime Homework Help volunteer tutor, said that demand has been high each evening since the program resumed in September. He recently increased his volunteer time from one to two days a week to keep up with the need.
"I can definitely tell there's been a big gap" in learning during the pandemic, Tim said. "And here, we help you get caught up."
Tim was working with Auna and Marayam, two high school students attending the program for the first time. They are seeking to increase their math and chemistry skills, and had heard about Homework Help at school. The students enjoy working with the Homework Help tutors.
"They're inviting and nice," Auna said, "and I'm getting work done."
Students are working hard to make up for the gaps that COVID created. A national assessment released in October recorded the steepest decline in math scores in three decades. Reading skills have fallen dramatically as well.
Nancy Garrett, Teen Services Librarian at the Lake City Branch, said about 25 students come to Homework Help every day. It runs two days a week for three hours at a time with 20 regular volunteers. Homework Help returned to six branches this fall: Columbia, Douglass-Truth, High Point, Lake City, NewHolly, and Rainier Beach, with plans to expand the program next year.
Students spend time on whatever assignments they bring, rotating between tutors if needed. While students are in the branch they take advantage of the public spaces, and connect with community partners, like the Hunger Intervention Program, which offers free afterschool meals.
Ayehu, a mother of three who lives in the neighborhood, has seen a noticeable impact on her kids' work with the return of Homework Help. She brought her family to Lake City for afterschool assistance before the pandemic and tried using virtual tutoring the past two years. "This is so much better, in person," Ayehu said.
Librarians have observed increased demand for virtual options for older students, while the younger students generally prefer in-person assistance. Since late 2020, Seattle students have joined more than 4,000 live one-on-one sessions on Tutor.com, a donor-supported program. Online tutoring has been popular with high school students, English language learners, and those without regular transportation.
The Library plans to keep Tutor.com in place, including sessions in Spanish and Vietnamese, as it expands Homework Help to more branches. This hybrid format gives more students the ability to choose what kind of tutoring works best for them.
Some students grew up with Homework Help and have used it throughout their educational journey. Hermela, a first-year student at UW Bothell, has been benefitting from the program since second grade. She has missed the in-person connections and sense of community the program creates. She plans to continue using Homework Help for support with her college assignments.
"The tutors here help me understand my work in so many different ways," Hermela said. "I just love Homework Help."
Visit spl.org/homework to learn more about Homework Help and how to volunteer. Your gift to the Foundation is an investment in Seattle students. Donate today!
Read more from the Foundation's Winter 2022 newsletter, The Next Chapter.