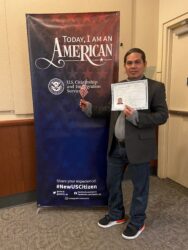 Our 2022 Annual Report on Donor Impact illustrates a few of the ways the library serves as a hub for connecting people – with resources, with services, and with each other.
The connections forged by donor-supported programs are essential for everyone's sense of belonging, ability to fully participate in society, and civic engagement that sustains a healthy democracy:
Fostering citizenship
Seattle's population of foreign-born residents continues to grow. Yet studies show that those with limited English proficiency often struggle to find jobs and integrate into society.
Classes through the library help bridge this gap. Working with Asian Counseling and Referral Service (ACRS), the library held nearly 7,000 hours of citizenship classes in 2022. Students prepare for their naturalization interviews in English, with support in Chinese, Spanish, and Vietnamese. At least half of last year's students have become naturalized citizens.
Citizenship improves employment opportunities, and enables voting and democratic participation. Learning about citizenship also forms essential connections for students.
"The classes provide a wonderful international community. We find it can reduce the isolation that some of them experience," said Mckenna Lang, ACRS lead instructor. "It is powerful to hold the world in our classroom."
Pictured above: A former citizenship class student at their naturalization ceremony. (Photo courtesy of Mckenna Lang)
Welcoming all neighbors
The library is a fundamental resource for people experiencing homelessness and housing insecurity. Library staff go beyond their branches to collaborate with providers, welcome new patrons, and make resources more accessible.
Last year library staff resumed in-person visits to people living in temporary homes at several tiny house villages. These visits have provided books and tools like Wi-Fi hotspots that residents need. They also form relationships between neighbors and library staff.
Staff from the Rainier Beach Branch visited the nearby Southend Village. Residents signed up for library cards, picked from a multilingual selection of books, and learned about programs. Parents were especially interested in ways the branch could support their children, such as the Homework Help program.
Growing together through reading
The library fuels interactions between cross-sections of our society. Programs provide unique chances for people from different backgrounds to get to know and learn from one another.
Team Read connects elementary students reading below grade level with teen reading coaches. The longtime library partner program sees immediate impacts on literacy. In the 2021-22 school year, the average reader in the program improved by almost a full grade level.
For most of the high school student coaches, Team Read represents their first paid formal job experience. Coaches report increased confidence, leadership skills, and communication after working with younger students.
Students derive clear benefits from connecting with mentors and mentees through the library. Younger readers have someone to look up to – and often go on to become coaches themselves. Coaches gain new abilities as they prepare for adulthood.
Empowering business leaders
Small businesses and nonprofits are critical to thriving communities. But legal and administrative issues can stand in their way, particularly for leaders with language barriers.
That's why the library offers free consultations with volunteer attorneys. Patrons with legal questions connect one-on-one with legal experts recruited by the University of Washington Entrepreneurial Law Clinic. Topics include corporate law, real estate, and intellectual property. Almost 200 people received assistance.
Last year, the library began offering consults in Spanish as well. A pilot program with the Latino Community Fund provided interpretation and outreach to community members seeking assistance.
"The consultations provide a free, confidential and welcoming space," said Jay Lyman, Library to Business program manager. "The nature of these sessions means they get the information they need, at the level and moment when they need it. Established partnerships help build awareness and trust for community members that might not otherwise participate."
Your gift to the Foundation helps preserve the library as one of the last places where our society connects, free of charge and open to all. Give today to protect and enhance our essential role.